Peabody College is one of five Vanderbilt graduate schools selected to participate in the new Bass Military Scholars program. Starting this fall, the program will begin funding six scholarships annually at Vanderbilt for eligible active-duty military and veterans.
The program is funded by a $25 million gift from the Lee and Ramona Bass Foundation, providing financial aid and programming support at Peabody, the Owen Graduate School of Management, Vanderbilt Law School, Vanderbilt School of Medicine, and Vanderbilt School of Nursing. Once fully endowed, the Bass Military Scholars program is expected to support a cohort of 40 students annually among the five schools and colleges.
"Military veterans are among our country's greatest resources, and Peabody offers national leadership in education and human development. The marriage of great talent and excellence in professional preparation will yield real benefits for society," says Camilla P. Benbow, Patricia and Rodes Hart Dean of Education and Human Development. "We are grateful to the Bass Foundation for making this possible."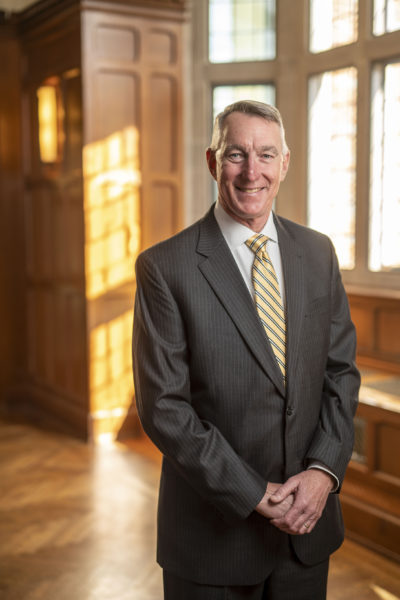 Gary H. Cheek, a retired U.S. Army lieutenant general with extensive experience mentoring and leading teams, was named director of the program in January and joined the university during the spring semester.
"This program not only will benefit veterans seeking advanced degrees, but will also allow them to impart their character, work ethic and mission focus into the rich and collaborative learning environment that exists at Vanderbilt. It is a classic win-win," Cheek says. "I am deeply honored to lead this unique and important program, and look forward to working with faculty, students and administrators across the university to make Vanderbilt the premier destination for veterans—both officer and enlisted—seeking graduate and professional degrees."
The program is designed to complement, not replace, other financial aid programs available to members of the military and veterans, including the Yellow Ribbon program.
Scholarship recipients across all five schools will meet regularly as a group. As they work toward completing their degrees, they will participate in service activities designed to foster military–civilian exchanges and mentorship opportunities within the broader Vanderbilt community.
This gift builds on the enduring commitment by Vanderbilt and the Lee and Ramona Bass Foundation to educate, support and celebrate military officers and veterans.