Media Inquiries
Latest Stories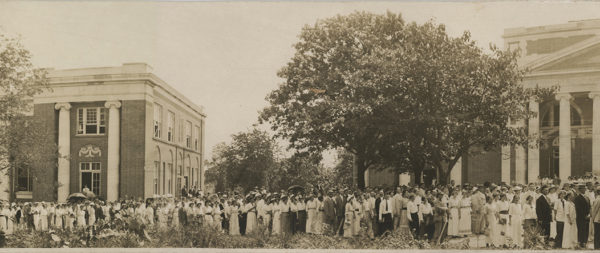 By Randy Horick, MA'82
Featured on the cover of Paul Conkin's history of Peabody College is a wide-angle, black-and-white photograph of a multitude assembled in front of two stately brick buildings adorned with classical columns. The group is bunched together and dressed as if going to church on a summer Sunday, with some of the women holding parasols to create small islands of shade.
In that summer of 1914, the students and faculty of George Peabody College for Teachers weren't just posed in front of the two buildings, Home Economics and Industrial Arts (rechristened Mayborn Hall in the 1970s). They were gathered there because of them. The brand-new structures, where classes had begun after Memorial Day, were the first to be completed on Peabody's relocated campus across 21st Avenue from Vanderbilt.
The school's leadership was so intimately involved with the design of the buildings that board members "voted on the exact shade of bricks and were bitterly disappointed when the bricklayers at first used a slightly wider mortar than the plan stipulated," according to Conkin, MA'53, PhD'57, Distinguished Professor of History, Emeritus.
Although the summer day captured in the photo has long since passed, the buildings have retained the same elegant exteriors since their doors first opened a few months shy of the Great War's commencement in Europe. At the same time, however, the interior has not changed much since then, either. That has become a problem.
The facilities—originally designed to provide a progressive education in 1914—gradually became as outmoded as the concepts of home economics and industrial arts themselves. The hum of window-unit air conditioners and the clanking of steam radiators may have provided a shared experience for students who attended Peabody decades apart, but today they have become hallmarks of facilities acutely in need of upgrades.
In September, Peabody broke ground on the first phase of a $41 million, multibuilding construction project to renovate Mayborn Hall and the Home Economics Building. The two buildings will be united into a single structure, connected by a glimmering, 15,000-square-foot glass-and-steel enclosure that itself will provide new resources for the Peabody community.
"With that modern connector, we are honoring our past—which still influences us today—without being stuck in it. The environment it will create will allow all of us to connect, too."
–Dean Camilla Benbow
Camilla P. Benbow, Patricia and Rodes Hart Dean of Education and Human Development, sees the connector not just as a bridge between buildings but one between Peabody's past and future. "We are all becoming, all evolving," Benbow says. "With that modern connector, we are honoring our past—which still influences us today—without being stuck in it. The environment it will create will allow all of us to connect, too."
Making connections, in fact, will be a theme that runs throughout the soon-to-be conjoined structure. The main corridors aren't meant solely to facilitate foot traffic; they will contain sitting areas that invite people to linger, talk and share ideas. There will also be a café—a popular idea among students as plans were being designed—that promotes the kind of informal gatherings that weren't possible in these buildings before.
"You don't think great thoughts in isolation. You talk about them," Benbow says. "We wanted to be sure that this renovation provides a sense of community, giving students physical spaces to gather and reflect on what they have just learned and experienced. If you're a faculty member, you're also still learning. You want to be together with your peers in spaces that foster dialogue and spark new ideas. So we built all of that in."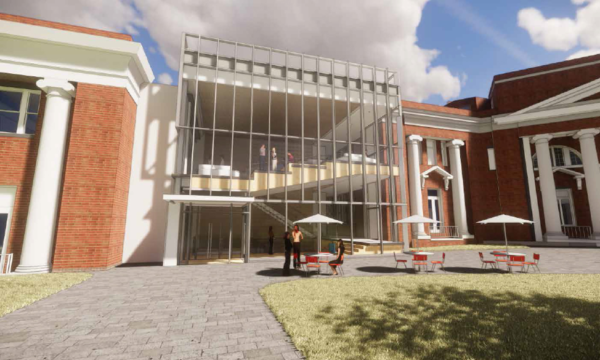 PEABODY'S FRONT DOOR
In addition to a financial commitment from the university, the project was made possible by a gift from the New Orleans-based Lupin Foundation. "One of our areas of focus is higher education," says health-care attorney Louis Lupin, a director of the foundation. "To be able to restore and put a modern touch on these two historic buildings is gratifying."
When it opens in early 2020, the new complex will serve as the front door to the Peabody campus—a building that will welcome students and visitors from around the world. It will be home to the Department of Human and Organizational Development, the second largest undergraduate major at Vanderbilt. (HOD classes are currently being held in the old Sony Music building on 18th Avenue.) And for the first time, research areas for faculty and flexible project spaces will be provided.
Redesigned classroom space will accommodate advanced technology that engages students more directly as participants. Digital observation spaces will allow teacher interaction in ways not possible before, and there will be new event spaces and even a new makerspace to promote entrepreneurship and innovation.
"We have faculty who are all about STEM education who need space to run their projects," says Janet Walker Roberts, Peabody facilities manager. "They can see how students learn by using technology. The makerspace will support that activity and is also part of our orientation toward the larger community."
"From the inside, you'll be able to go up to the third floor and put your hands on brick that no one has touched for 100 years."
–Architect Paul Marshall
Flexibility will be another hallmark of the new complex. Roberts explains the needs of the school 100 years ago were very different—and "it's hard to anticipate what the needs will be 100 years from now," she adds. Flexible spaces will help. At the request of professors, most classroom furnishings will be moveable and modular. New research spaces, which can be reserved as needed across departments and projects rather than permanently assigned, reflect the transdisciplinary nature of much of the scholarly work at Peabody today. "We just didn't have spaces like that before," Roberts says.
The project also will remediate Peabody's long-standing barriers to accessibility—a situation Benbow says has defied Peabody's commitment to breaking down walls to human fulfillment. The elevator in Mayborn malfunctioned frequently, and Home Economics offered only stairs. "One of our faculty members is in a wheelchair," Benbow points out. "This was a big deal." Now, a new elevator in the connector will take users reliably to any floor in the complex.
Paul Marshall, an architect with Vanderbilt's Campus Planning and Construction, says the idea behind the renovation and construction was to build something that would neither attempt to replicate the style and materials of the two historic structures—a formidable challenge in his estimation—nor to compete with them. Rather, the idea is "to let you see, touch and celebrate their architectural character and beauty," he says. "From the inside, you'll be able to go up to the third floor and put your hands on brick that no one has touched for 100 years."
GIVING 105 PERCENT
For a school whose history is closely tied with nature and agriculture, it's only fitting that the Peabody project has an intense focus on green technology and sustainability. The effort goes far beyond energy efficiency. It involves a holistic approach to the well-being of the people who will use these facilities. "Sustainability," Marshall says, "covers everything from the transportation plan to recycling to how to turn the lights on and off."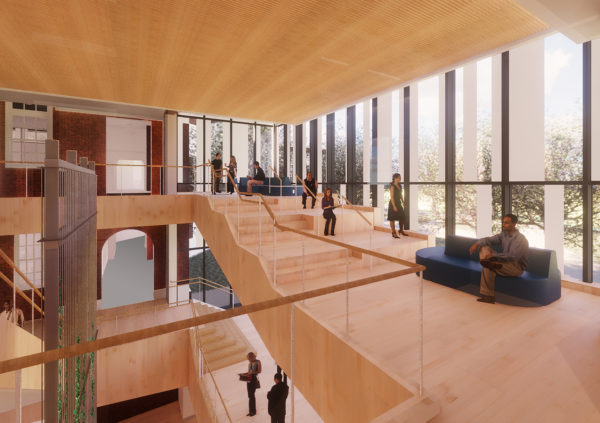 The new complex also will be the first structure at Vanderbilt aimed at achieving Petal Certification under the Living Building Challenge—a green building and sustainable design for structures that, as Marshall puts it, "give more than they take." This includes things such as the ways the buildings use water, energy and materials, as well as how they contribute to equity, aesthetics, and the health and happiness of their occupants. These performance areas are called "Petals" because, as Marshall explains, "a flower exists in harmony with its place and takes care of its waste on site."
To meet Petal standards, the project will avoid using environmentally unfriendly "red list" materials and chemicals.
So, how do you establish standards for "health and happiness?" One way is to require that every occupied space have windows offering access to fresh air and daylight. To that end, the project team hopes to make all the old windows in Mayborn and Home Economics operable again, adding sensors that detect when outside conditions allow them to be open.
"When these buildings were built," Marshall says, "people knew how to live more within the environment. The tall ceilings not only promoted air circulation but allowed taller windows that let in more light." The new technology, he notes, is in some ways a nod to the past.
The plans, designed with help from Centric Architecture and SGA Architecture, also involve as much preservation as renovation—an acknowledgment that the grace and optimism of the original structures have always been important. The sweeping main staircase, plaster medallions and skylight of Mayborn will all be restored to their original splendor, even as the design reclaims square footage that had been unusable for years. Preservation, Roberts says, extends even to evaluations of the health of individual trees in the project area.
A second phase of the project, currently under consideration, would renovate Payne Hall and could extend to Hobbs Hall, the Jesup Psychology Building and the Peabody Library. Ultimately, as part of the overall landscape design, Magnolia Circle will give way to a more parklike, walkable green space.
For now, however, Benbow is excited about how the current project promises to bring both forward-looking change and continuity with the school's mission and history. "I hope it will have the same effect on Peabody that The Martha Rivers Ingram Commons has had on Vanderbilt," she says. "It will make a stronger community."
Randy Horick, MA'82, owns Writers Bloc Inc. and is a Nashville freelance writer and editor. With an undergraduate degree in history and journalism from Baylor University, the former advertising copywriter earned his master's in history at Vanderbilt.