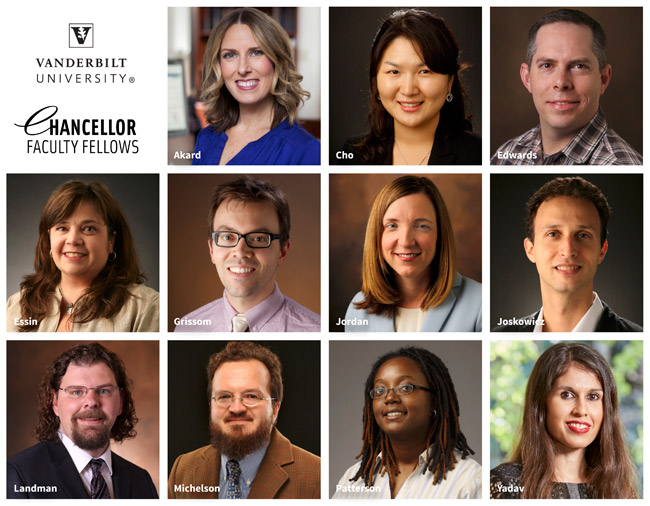 Eleven outstanding faculty members from across the university have been selected for the 2019 cohort of Chancellor Faculty Fellows. This group is composed of highly accomplished, recently tenured faculty from a wide variety of disciplines and areas of expertise.
"Investing in our academic leaders early in their careers is one of the most important ways that we continue to move forward as a university that is committed to world-class excellence in teaching, scholarship and service," said Vanderbilt University Chancellor Nicholas S. Zeppos. "I congratulate these faculty on this honor, knowing that these fellowships provide a lasting foundation at our university for the discoveries that will address significant problems in our community and across the globe for years to come."
The faculty members will hold the title of Chancellor Faculty Fellow for two years and will be supported by an unrestricted allocation of $40,000 a year for two fiscal years, beginning July 1. The funds can be used to support innovative research, scholarship and creative expression activities that advance the career of the awardee.
The selected faculty members will meet as a group during the course of their fellowships to exchange ideas on teaching and research, building a broader intellectual community that advances trans-institutional scholarship.
"The Chancellor Faculty Fellows play a vital role in helping our university achieve the vision and values that we set forth in the Academic Strategic Plan," said Provost and Vice Chancellor for Academic Affairs Susan R. Wente. "We launched this program only five years ago, so it is still relatively young. Yet, our fellows are already making a significant difference on our campus and beyond, with impressive research and teaching efforts that expand our academic body of knowledge and drive positive change in the world."
The newly named 2019 Chancellor Faculty Fellows are:
Terrah Foster Akard, associate professor of nursing
Sun-Joo Cho, associate professor of psychology and human development
Todd Edwards, associate professor of medicine
Christin Essin, associate professor of theatre
William Grissom, associate professor of biomedical engineering
Lori Jordan, associate professor of pediatrics
Ari Joskowicz, associate professor of Jewish studies and European studies
Bennett Landman, associate professor of electrical engineering, computer engineering and computer science
David Michelson, associate professor of the history of Christianity
Evelyn Patterson, associate professor of sociology
Yesha Yadav, professor of law
The Chancellor Faculty Fellows program was launched in September 2014 under the Trans-Institutional Programs, or TIPs, initiative to support outstanding faculty who have recently received tenure. Some highlights of accomplishments from the first cohort of fellows include:
Sharon Weiss, professor of electrical engineering and physics and deputy director of the Vanderbilt Institute of Nanoscale Engineering and Science, was named a Cornelius Vanderbilt Professor of Engineering in 2017.She has earned an international reputation for expanding the use of silicon in photonics and optoelectronics. In 2018, The Optical Society named her a fellow "for contributions expanding the use of silicon in photonics and optoelectronics, and especially for designing and demonstrating highly sensitive porous-silicon guided-wave optical biosensors." She has also been named a fellow of SPIE, an international society advancing an interdisciplinary approach to the science and application of light, where she has chaired several conferences..
Kelly Holley-Bockelmann, an associate professor of astrophysics, was named in 2015 as director of the Fisk-Vanderbilt Masters-to-Ph.D. Bridge Program, after serving as a recognized and outstanding faculty mentor to the participating students. In 2017, she was selected as chair of the U.S. Laser Interferometer Space Antenna (LISA) Study Team, a group of 18 scientists advising NASA on science issues related to a proposed space observatory. Holly-Bockelmann presented updates on LISA and their preliminary findings at the 2018 spring faculty assembly.
Bunmi Olatunji, professor of psychology and associate professor of psychiatry, received the American Psychological Association Distinguished Scientific Award for Early Career Contribution to Psychology in 2015. This award recognizes excellent psychologists who are at early stages of their research careers. In 2016, he was named a fellow of the Association for Psychological Science. Olatunji served as editor of the Cambridge Handbook of Anxiety and Related Disorders, published in December 2018.
Chancellor Faculty Fellow candidates are nominated by their deans and colleagues. With collaborative oversight by Tracey George, interim vice provost for faculty affairs and Charles B. Cox III and Lucy D. Cox Family Professor in Law and Liberty, and Jennifer Pietenpol, Vanderbilt University Medical Center executive vice president for research and B. F. Byrd Jr. Professor of Oncology, Biochemistry and Otolaryngology, the TIPs Council reviewed and made final recommendations to Provost Wente and Jeffrey Balser, dean of the School of Medicine and VUMC President/CEO, on the many excellent nominations received for the 2019 cohort.