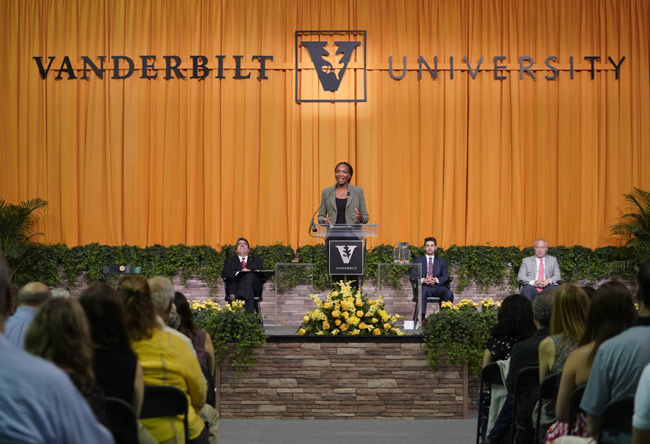 Tennis champion, entrepreneur and equal rights advocate Venus Williams imparted to Vanderbilt University's Class of 2019 a well-tested list for success heavy on risk-taking, goal-making and optimism.
Her remarks, delivered Thursday in Memorial Gym, came after she accepted the Nichols-Chancellor's Medal from Chancellor Nicholas S. Zeppos, who lauded her activism in ensuring equal pay for women tennis players as much as her stellar athletic career. The medal is awarded to individuals who define the 21st century and exemplify the best qualities of the human spirit.
"Ms. Williams is a legend, a hero, accomplished and deserving of this award today, but she also has made a point of using her accomplishments as a platform to advance human rights and equality for others," Zeppos said. "She understood quite well that the pay was important, but she also saw the inequality it represented. She put her brand, her character and her reputation entirely on the line for a cause she believed in."
In a speech that was humorous and personable, Williams shared life lessons that have served her well.
In one candid account, she addressed competing in the 2012 London Olympics after her diagnosis of the autoimmune disease Sjögren's syndrome.
"Help others. You have to make life bigger than you." –Venus Williams
"I was so afraid, because I was focused on what I couldn't do," she said. "What if I run out of energy? What if I can't get to that ball? What if, what if, what if? One of the tools for putting fear in its place is focusing on what you can do."
She and her sister, Serena Williams, took home gold in the doubles event that year – their third consecutive Olympic gold medal as a team. In total, Venus Williams has won seven Grand Slam titles, five Wimbledon championships and four Olympic gold medals. She also launched a women's apparel line, EleVen, and V Starr Interiors.
Her No. 1 lesson: "Help others. You have to make life bigger than you."
When she arrived at Wimbledon, a dream since childhood, she was stunned to learn the women's prize purse was significantly lower than the men's. Fighting for equality in that arena will make a difference long after her personal accomplishments fade, she said.
Prior to Williams' speech, Vanderbilt Student Government President Tariq Issa, who introduced Zeppos, called Commencement activities an opportunity for graduates to reflect on what they've achieved.