Media Inquiries
Latest Stories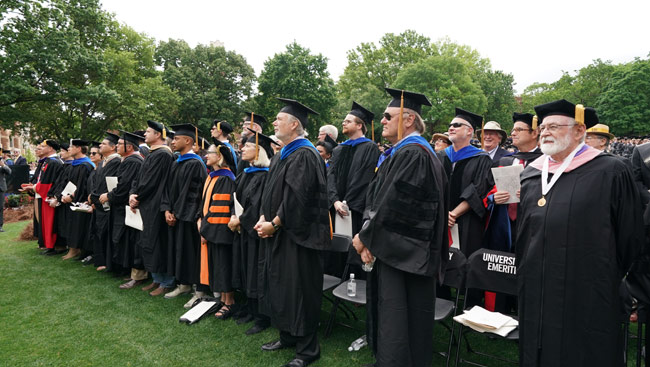 Twenty-five retiring faculty members were recognized during Vanderbilt's Commencement ceremony May 10, when the university honored their years of service and bestowed on them the title of emeritus or emerita faculty.
In addition, Chancellor Nicholas S. Zeppos was appointed chancellor emeritus, effective Aug. 15, 2019. Zeppos announced April 2 that he will step down as Vanderbilt's eighth chancellor on Aug. 15 after more than a decade in the role. He plans to take a yearlong sabbatical before returning to the faculty as professor of law.
Read about Vanderbilt's emeritus and emerita professors for 2019.
David M. Bader, professor of medicine, emeritus
Richard M. Blackett, professor of history, emeritus
Frank H. Boehm, professor of obstetrics and gynecology, emeritus
Aaron Bertrand (Randy) Brill, research professor of radiology and radiological sciences, emeritus
Andrew F. Daughety, professor of economics, emeritus, Gertrude Conaway Vanderbilt Chair, Emeritus
John H. Exton, professor of molecular physiology and biophysics, emeritus
Kenneth F. Galloway, Distinguished Professor of Engineering and Computer Science, Emeritus; dean of the School of Engineering, emeritus
Debra Coleman Jeter, professor of accounting, emerita
Gennadi Kasparov, professor of mathematics, emeritus
Joan E. King, professor of nursing, emerita
David M. Miller III, professor of cell and developmental biology, emeritus
Randolph A. Miller, professor of biomedical informatics, emeritus
Bruce I. Oppenheimer, professor of political science, emeritus
Robert H. Ossoff, professor of otolaryngology, emeritus
Michael R. Petracek, professor of cardiac surgery, emeritus
Jennifer F. Reinganum, professor of economics, emerita; E. Bronson Ingram Chair in Economics, Emerita
John J. Rieser, professor of psychology and human development, emeritus
Earl Ruley, professor of pathology, microbiology and immunology, emeritus
Virginia M. Scott, professor of French, emerita
Mitchell A. Seligson, Centennial Professor of Political Science, Emeritus
Barbara Stengel, professor of the practice of education, emerita
William G. Wiggins, professor of timpani and percussion, emeritus
Phillip E. Williams, research professor of surgery, emeritus
James E. Wittig, associate professor of materials science and engineering, emeritus
Keith D. Wrenn, professor of emergency medicine, emeritus