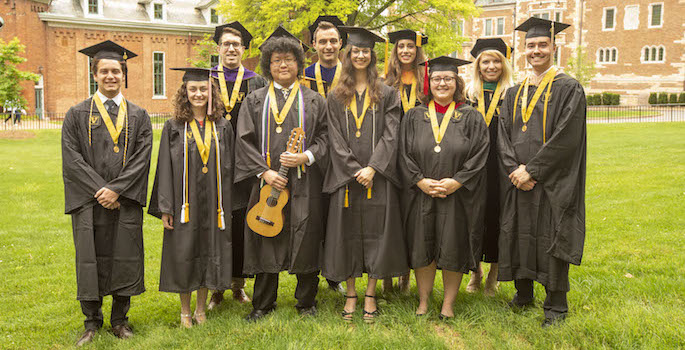 Vanderbilt University recognized exceptional graduating students from each of its undergraduate and professional schools on Friday, May 10, during this year's Commencement ceremonies. Chancellor Nicholas S. Zeppos presented the scholars with Founder's Medals in honor of the university's founder Cornelius Vanderbilt, a tradition dating back to 1877.
Arts and Science
Ethan Chervonski, from Peachtree Corners, Ga., is this year's Founder's Medalist for the College of Arts and Science. A recipient of the Atlanta Lanier Scholarship, he is graduating with a bachelor of arts. Since his freshman year, Ethan has worked in the lab of Assistant Professor of Cell and Developmental Biology Rebecca Ihrie, researching how different populations of stem cells contribute to tumor development in the brain. He also worked with Professor of History Marshall Eakin, learning how health is impacted by politics, the criminal justice system, poverty and other issues in Brazil. Ethan plans to combine his research training in neuroscience with insights from the social sciences and humanities to develop patient-centered care as a physician. He will spend the next year doing post-baccalaureate research in the Ihrie Lab, after which he plans to apply to medical school.
Blair School of Music
Brigit Maynard Fitzgerald, from Phoenix, Ariz., is this year's Founder's Medalist for the Blair School of Music. She is graduating with a bachelor of music. She earned a degree in bassoon performance, a second major in mathematics and a minor in scientific computing. A Cornelius Vanderbilt Scholar with support from the Lanier Leadership Scholarship, Brigit won the Elliott and Ailsa Newman Award for Excellence in woodwind performance, has been a winner of the Vanderbilt Orchestra Concerto Competition and previously performed as a soloist with the Phoenix Symphony. She spent summer 2018 at the prestigious Aspen Music Festival and School and summer 2017 at the Vanderbilt Musique Academie in Aix-en-Provence, France. She also enjoyed sharing her knowledge of the bassoon with students in Colombia during a trip with the Vanderbilt Wind Symphony in spring 2018. Brigit will pursue a master of music in bassoon performance at the University of Texas at Austin.
Divinity School
Maria Angeline Michonski, from Chapmansboro, Tenn., is this year's Founder's Medalist for the Divinity School. She is graduating with a master of divinity. With a full-tuition Dean's Scholarship at the Divinity School, Maria has immersed herself in her studies, focusing on religion, gender and sexuality. She expanded and enriched her experience and knowledge through involvement in campus groups including the Vanderbilt Office of LGBTQI Life, the Margaret Cuninggim Women's Center and the Vanderbilt Queerality Affinity Group. She was also a summer institute intern for the Public Theology and Racial Justice Collaborative for the Divinity School. Maria aspires to work in the nonprofit sector after graduation in fields related to gender, sexuality and justice to create sacramental experiences for LGBTQIA+ people in the South. She also hopes to become a practitioner of biodynamic farming and help to educate people on holistic, ecological and ethical approaches to farming and gardening.
School of Engineering
David K. Zhang, from Clarksville, Tenn., is this year's Founder's Medalist for the School of Engineering. He is graduating with a bachelor of science. David is a triple major in computer science, mathematics and physics. As a graduate student, he plans to continue working at the intersection of science and technology using a combination of computational and theoretical tools. David co-founded the Vanderbilt chapter of the Association for Computing Machinery and served on the Undergraduate Honor Council. He has been recognized for academic performance, promise as a research leader and skills as a speaker. After graduation, David will intern as a software engineer at Microsoft, followed by doctoral studies in applied mathematics and scientific computing at Stanford University.
Graduate School
Ian Williams, from Petaluma, Calif., is this year's Founder's Medalist for the Graduate School. He is graduating with a doctor of philosophy in molecular physiology and biophysics. A fascination with blood vessels inspired Ian's scientific career in vascular biology and laid the foundation for a prestigious grant from the National Institutes of Health. His goal is to discover treatments for metabolic and cardiovascular diseases by running his own laboratory in an academic setting, as well as seek opportunities to take his discoveries from the laboratory to the clinic in order to directly benefit patients. Ian is currently a postdoctoral fellow at Stanford University, studying the cells that line blood vessels and he hopes to continue learning more about them for the rest of his career.
Law School
Joshua Burton Landis, from Hamilton, Mass., is this year's Founder's Medalist from the Law School. He is graduating with a doctor of jurisprudence. Josh's honors at Vanderbilt Law School include the Archie B. Martin Memorial Prize for Scholarship, achieving Dean's List all semesters, serving as the Notes editor for the Vanderbilt Law Review and being selected for the Myron Penn Laughlin Note Award for contributing the best student note published in the Vanderbilt Law Review. Josh was a John Wade Law Scholar, a Moot Court finalist—for which he received the Best Oralist award—and was selected for Phi Delta Phi Legal Honor Society. He also served as a Law School Ambassador and as the president and treasurer of Cork and Tap Legal Society. After clerking for the Honorable Karen LeCraft Henderson, U.S. Court of Appeals for the District of Columbia Circuit, Washington, D.C., Josh will join Latham and Watkins in Menlo Park, Calif., as an associate.
School of Medicine
Jessica Lindsay Burris, from Midlothian, Va., is this year's Founder's Medalist for the School of Medicine. She is graduating with a doctor of medicine. The physicians she encountered while recovering from a long-term illness during medical school became her model of effective doctor-patient interactions and inspired her to develop her own interpersonal skills, as well as medical knowledge, as a student. She has held national leadership roles in developing and implementing a patient-powered research network, was selected for Alpha Omega Alpha Honor Medical Society and the Gold Humanism Honor Society, and delivered the 2019 Vanderbilt Flexner Medical Student Lecture. She will be continuing her training in psychiatry at Yale University.
School of Nursing
Brooke M. Faught, from Brentwood, Tenn., is this year's Founder's Medalist for the School of Nursing. She is graduating with a doctor of nursing practice. Prior to her studies at Vanderbilt, she developed the Women's Institute for Sexual Health and has turned WISH into an internationally recognized center. Her daughter's Down syndrome diagnosis led Brooke to work toward ensuring all women with intellectual and developmental disabilities receive relevant and appropriate sexuality education. Her doctoral project has the potential to change how health care providers talk about sexuality with their patients with intellectual and developmental disabilities. After graduation, Brooke will continue this work, as well as her role as health care provider, director of WISH and part-time faculty member for the School of Nursing.
Owen Graduate School of Management
Matthew Kemper Davis, from Montgomery, Ala., is this year's Founder's Medalist for the Owen Graduate School of Management and is graduating with a master of business administration. He is a recipient of the Bruce D. Henderson, Virginia Banks and Fred W. Lazenby Honor and Liz and Russ Fleischer Scholarships. After beginning a career in management consulting at the Houston office of PricewaterhouseCoopers, Matthew arrived at the Owen School motivated by memories of his late father's daily instruction to study hard, work hard and play hard. Matthew earned a 4.0 GPA while devoting time to the Owen Finance Club and to nonprofit organizations such as the Juvenile Diabetes Research Foundation, Savefirst free tax preparation service and Tutormate, which helps first-grade students in low-income communities learn to read. After graduation, Matthew will begin a career in oil and gas investment banking at Goldman Sachs in Houston.
Peabody College
Emily Joellen Burgess, from Kingsport, Tenn., is this year's Founder's Medalist for Peabody College and is graduating with a bachelor of science. Emily graduates with majors in human and organizational development and history and economics and a minor in philosophy. While at Vanderbilt, Emily devoted time to serving vulnerable communities. In her first year, she co-founded a local chapter of Project RISHI, a national nonprofit aimed at improving the human condition in rural India. Emily also helped create a service-learning course in which students work with local community partners to better the lives of refugees in Nashville. As part of her HOD capstone project, Emily worked through the Nashville Office of Family Safety with victims of domestic abuse and sexual assault and with legal professionals advising those victims. Emily sees a career in public service as her greatest means of empowering and supporting her community and plans to attend Vanderbilt Law School in the fall to work toward this goal.