Influential award from DownBeat magazine based on selections submitted from Blair Big Band's second studio album, Songbook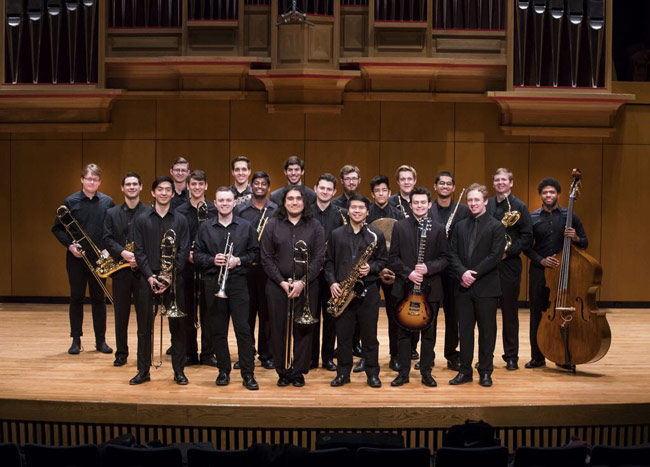 Vanderbilt University's Blair School of Music has been recognized by DownBeat magazine's 42nd Annual Student Music Awards. The Blair Big Band was named Best Undergraduate Large Jazz Ensemble. The winners were unveiled in the magazine's June edition.
This is the Blair School of Music's first award from DownBeat magazine, which is widely considered the "bible" of the jazz world. Since 1976, DownBeat has covered the world of jazz, blues and other improvisational music styles. The recordings Blair submitted to the competition were selections from the Blair Big Band's second studio album, Songbook, which is available on digital platforms.
"The DownBeat award for Best Undergraduate Jazz Ensemble is hugely prestigious, a fitting recognition of the great progress Vanderbilt's jazz program has made under the direction of Ryan Middagh," said Blair School Dean Mark Wait, who holds the Martha Rivers Ingram Dean's Chair. "It is also a significant milestone in the evolution of the Blair School, with its amazing progress, great potential and wonderful future."
"We are so grateful for this recognition of our students," said Ryan Middagh, director of jazz studies. "The Blair School of Music is incredibly proud of its students' commitment to music at the highest levels. I am amazed at the progress we have made as a department and school," Middagh said. "Our students receive top-notch instruction and guidance from an amazing team of jazz faculty and incredible support from our classical colleagues. This would not be possible without the support and encouragement from our dean's office."
Jazz courses were first offered at Vanderbilt's Blair School in 2002 under the direction of the late Billy Adair. Since Ryan Middagh took over the jazz program in 2014, the area has undergone a major curricular revamp and expansion. The jazz faculty has expanded to include Grammy Award-winning artists and a "who's who" of Nashville's finest musicians.
"This band is obviously playing at an extraordinarily high level," said Jeff Coffin, adjunct instructor of jazz saxophone at Blair, who is member of the Dave Matthews Band and three-time Grammy winner as a member of Bela Fleck & the Flecktones. "The quality of students has steadily escalated every year. I'm so proud to be affiliated with Ryan and these incredible young, tremendously gifted students."
The Blair Big Band was invited to perform at the 2017 Jazz Education Network Conference in New Orleans and will be on tour in South America in August.