Vanderbilt University sophomore Aakash Basu and junior Eric Zhang have been named Goldwater Scholars. The Goldwater Scholarship is the premier award for undergraduate STEM students who show exceptional promise of becoming the nation's next generation of research leaders. Basu and Zhang were selected from a field of 1,223 students nominated by the institutional representatives of 443 colleges and universities across the country.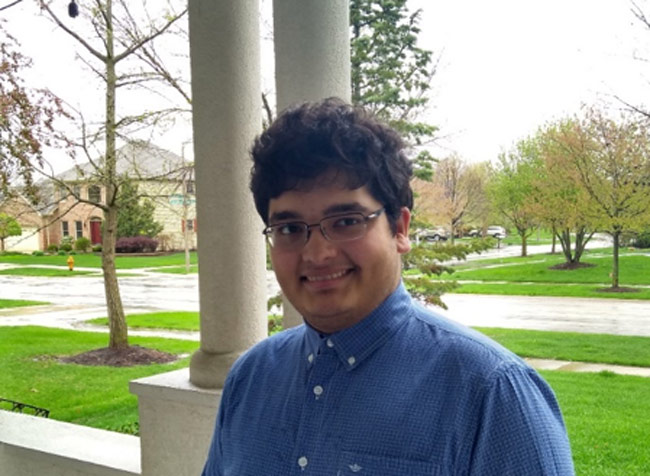 Basu, a neuroscience major from Naperville, Illinois, plans to pursue a Ph.D. in neuroscience and conduct research in the basic biology of psychiatric disorders such as anxiety disorders, addiction and depression. For Basu, being named a Goldwater Scholar "elevates my hope that through scientific inquiry, I will be able to do something that will change people's lives for the better."
He currently conducts research in the Winder Lab investigating the neuronal systems involved in stress-induced behaviors such as drug relapse, working with mentors Danny Winder, the Bixler-Johnson-Mayes Chair in Basic Sciences and professor of molecular physiology and biophysics, and graduate student Rafael Perez. Other recent mentors have included Tracy Fetterly, a postdoctoral researcher and emeritus member of the Winder Lab; Akira Yoshii, an assistant professor in the Department of Anatomy and Cell Biology, and graduate student Kevin Koster, both at the University of Illinois at Chicago; and Dylan Shropshire, a National Science Foundation graduate research fellow in the lab of Seth Bordenstein, associate professor of biological sciences at Vanderbilt.
Not only is Basu an exceptional student and young scientist with great potential, he participates in a wide range of student organizations, including the Vanderbilt Emergency Medical Society, Vandy SMASH and Vanderbilt Student Volunteers for Science, for which he serves on the executive board.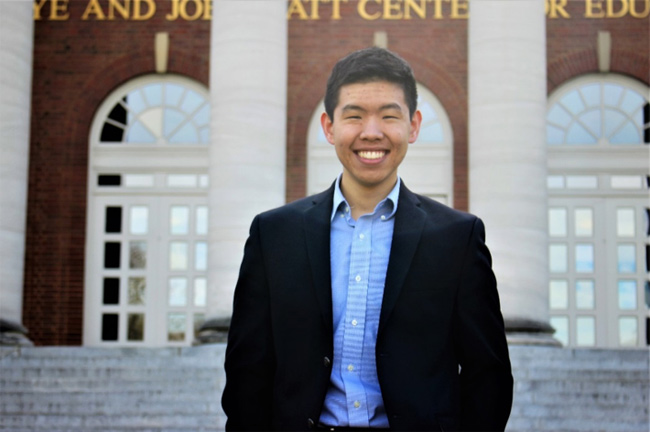 Zhang, a molecular and cellular biology and history major, plans to pursue an M.D./Ph.D. with a potential focus in immunology. Zhang said that he eventually hopes to apply his research to the "development of immunotherapies for the treatment of resilient pediatric cancers."
When he first enrolled at Vanderbilt, Zhang was relatively sure that he wouldn't be a good fit for research work. However, "over time, and with the help of several amazing mentors, that has changed," he said.
Zhang currently works in the Gould Lab with mentors Kathy Gould, the Louise B. McGavock Chair and professor of cell and developmental biology, and postdoctoral fellow Sierra Cullati. His research is focused on understanding DNA repair in fission yeast as a model organism and characterizing a specific set of proteins as potential regulators of this essential cellular process. Additional research mentors have included Richard Breyer, the Ruth King Scoville Chair in Medicine at Vanderbilt and professor of medicine, biochemistry and pharmacology; and Steven Estus, professor and director of research in the Department of Physiology at the University of Kentucky. "All have provided an immense amount of support. I also want to thank Dorrie Presson at the Career Center and the faculty who offered feedback on my application," Zhang said.
Beyond his work in the classroom and lab, Zhang devoted his time and talents to the annual high school Model UN conference, Vanderbilt Student Volunteers for Science and the Vanderbilt Protecting Animal Welfare Society. He also led the launch of Project Hemispheres on campus, a program in which Vanderbilt students volunteer at area middle schools to teach lessons on history, current events and international affairs.
The Career Center is grateful to the following faculty who served on the university's Goldwater nomination and review committee: Beth Bowman, assistant director, Graduate Programs in Biomedical Sciences, Vanderbilt University School of Medicine; Alexander Maier, assistant professor of psychology and assistant professor of ophthalmology and visual sciences; Todd Peterson, associate professor, Vanderbilt University School of Medicine; and Paul Sheldon, professor of physics and astronomy.
Each year, Vanderbilt may nominate up to four outstanding sophomore and junior students in the math, science and engineering fields for scholarships awarded by the Barry Goldwater Scholarship and Excellence in Education Foundation. These one- and two-year scholarships contribute up to $7,500 per year toward educational expenses.
For more information on the Goldwater Scholarship and other fellowships, contact Jackie Sheridan, associate director of Post-Baccalaureate Opportunities, at the Career Center.