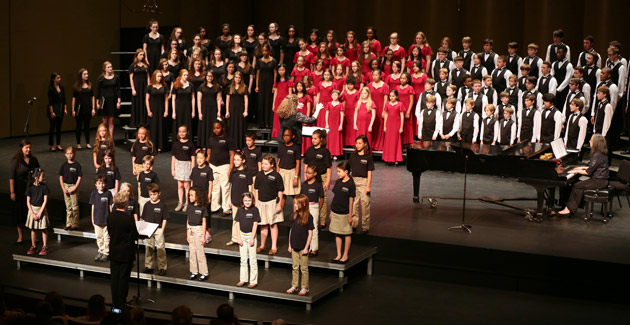 The Blair Children's Chorus, a tiered program of six choirs encompassing students in grades 1-12 from across Middle Tennessee, is a classically based program with strong emphases on healthy vocal production, music reading skills and performance. Chorus members come together over a shared love of music, desire to sing and make friends with other singers, and dedication to achieving significant musical goals.
The Blair Children's Chorus will hold open auditions on the following upcoming dates:
Saturday, May 18, from 10 a.m. to noon
Monday, May 20, from 5 to 7 p.m.
Saturday, Aug. 3, from 10 a.m. to noon
Monday, Aug. 5, from 5 to 7 p.m.
Auditions will be held at the Blair School of Music, Room 1109C. No prepared piece is necessary, and it doesn't matter which audition date you attend. Students will be heard in the order they arrive.
This year alone, BCC students have sung on stage at Carnegie Hall and participated in national honor choirs in Kansas City. They sang Kaddish with the Nashville Symphony, and will sing Carmina Burana both with the Nashville Symphony next month and travel to Budapest and Prague to sing the work again.
You can learn more about the program at Blair.vanderbilt.edu/bcc.