Media Inquiries
Latest Stories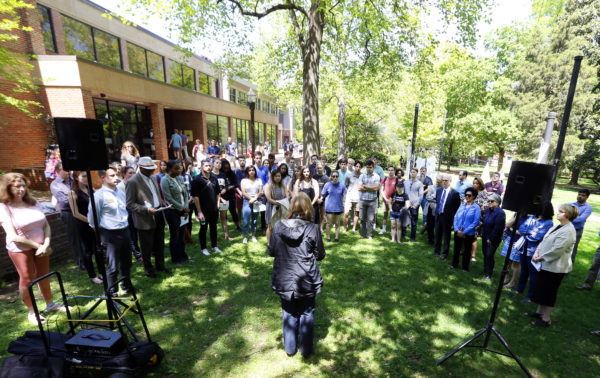 More than 100 members of the Vanderbilt community gathered at Rand Wall on Monday to honor those killed and injured in the terrorist attacks in Sri Lanka on Easter Sunday.
The vigil was in response to bombings that targeted churches and hotels the day prior, killing more than 350 people and injuring more than 500.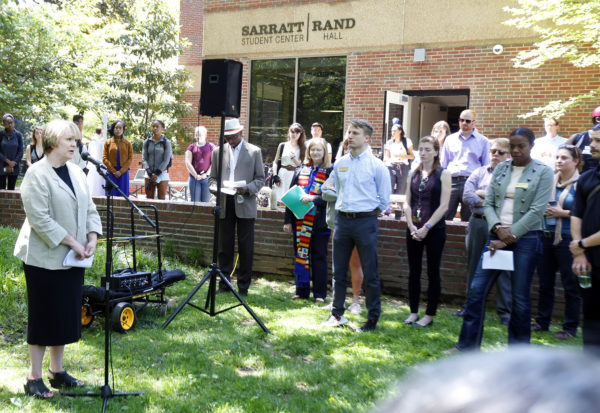 "Even in our grief, in deep sadness and in mourning, when words fail and it is hard to know what to do, we come together," said Associate Provost and Dean of Residential Faculty Vanessa Beasley, who spoke at the vigil. "We stand together. We weep together. We learn together. And we listen to each other, because if one of us has been hurt, we have all been hurt by this."
The gathering included remarks from students and leaders from across campus, including Thushara De Silva, a Ph.D. candidate in environmental engineering and a citizen of Sri Lanka.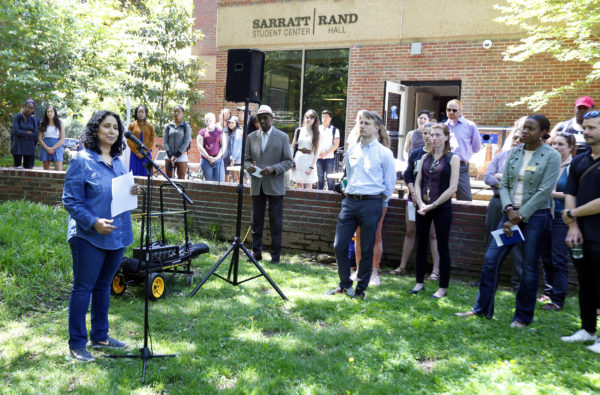 "Sri Lanka is an island nation of 22 million people trying to live in harmony," De Silva said. "Our hearts are full of condolences about the people killed at churches and hotels. They are all our brothers and sisters, sons and daughters, and loving visitors who came to see our beautiful country. I'm thankful for you all sharing your heartful condolences with Sri Lankans."
Religious leaders from the Office of the University Chaplain and Religious Life and affiliated chaplains also offered comfort at Monday's gathering, including Associate University Chaplain and Associate Director of Religious Life the Rev. Gretchen Person, Assistant University Chaplain and Assistant Director of Religious Life the Rev. Shantell Hinton, and Campus Chabad Chaplain Rabbi Shlomo Rothstein. Junior Bethany Dieringer, who is involved with Wesley Fellowship at Vanderbilt, led a moment of silence during the vigil in remembrance of those killed in Sunday's terrorist attacks.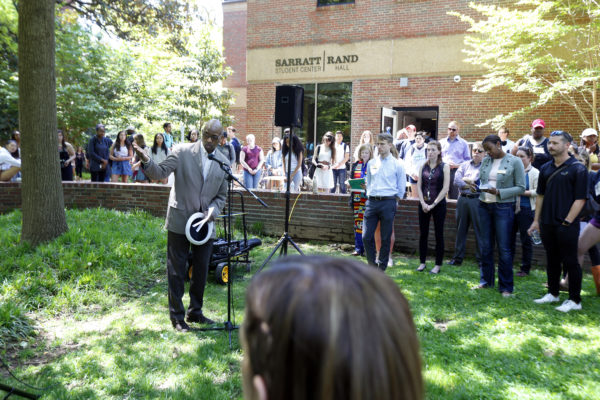 During the gathering, Associate Dean of Social Justice and Identity Frank Dobson noted the ways that the university can come together and support one another. "I hope that our community, our dear Vanderbilt community, can use times like these to think, reflect, say a prayer or do whatever we can in our minds and heart on behalf of those in Sri Lanka and across the world directly affected by this tragedy."
Provost and Vice Chancellor for Academic Affairs Susan R. Wente and Vice Chancellor for Equity, Diversity and Inclusion and Chief Diversity Officer James Page announced the vigil in a Monday morning message to the campus following the attacks on Easter.
Staff from the Office of the University Chaplain and Religious Life and the University Counseling Center remain available for counseling or conversation. Faculty and staff also can contact the Employee Assistance Program (EAP) for support.