Media Inquiries
Latest Stories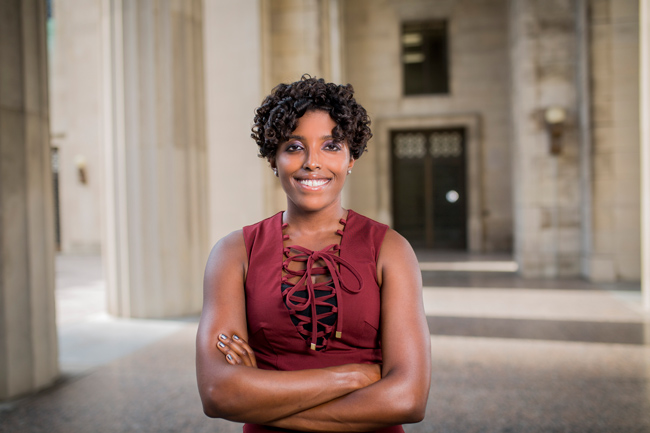 Vanderbilt political scientist Sharece Thrower was named an Andrew Carnegie Fellow and awarded $200,000 to support her research.
Thrower was one of 32 fellows announced on April 23 by the Carnegie Corporation of New York, which awarded a total of $6.4 million in philanthropic support for research in the humanities and social sciences.
"Early in her career, Professor Thrower has established herself as a prominent scholar of American politics and political institutions, examining many key issues about their effectiveness and impact on democracy," said Chancellor Nicholas S. Zeppos, who nominated the political scientist. "At a time when Americans are wrestling with questions on the scope of support for virtually all levels of government, she has cultivated a research agenda that can—and does—speak directly to these questions. I have no doubt that her work will serve to shape views of the American system of government for the foreseeable future and well beyond."
Thrower's areas of research include separation of power politics, executive branch policymaking and presidential power. Her Carnegie project, "Judicial Constraints on Executive and Presidential Power," will examine the extent to which the courts can intervene when there is encroaching executive power.
"The Carnegie fellowship will help Professor Thrower build on her exemplary research that is making significant contributions to our understanding of political institutions and how they affect public policy," said Provost and Vice Chancellor for Academic Affairs Susan R. Wente. "This is such an amazing honor and recognition, and speaks to the impact her work is having to drive positive change in the world."
Thrower is Vanderbilt's fourth Carnegie Fellow in five years. Professor of Law Ganesh Sitaraman was named a fellow in 2018 to support his research into the future of American democracy. Assistant Professor of Political Science Kristin Michelitch received a fellowship in 2017 to support her research on politicians and democracy in Uganda. In 2015, Larry Bartels, May Werthan Shayne Professor of Public Policy and Social Science, was selected for the first class of fellows for his work on how politicians respond to the wishes of citizens from differing economic classes.
"Sharece's impressive scholarship has already set her apart from her peers," said John Geer, dean of the College of Arts and Science and Gertrude Conaway Vanderbilt Professor of Political Science. "She is pushing the field in new directions by asking and answering pressing questions about American politics that are relevant to all of us."
"Having known Sharece since her days as an undergraduate student at Ohio State, it's been exciting to watch her intellectual development through graduate school and as a faculty member at Vanderbilt," said Alan E. Wiseman, Cornelius Vanderbilt Professor of Political Economy and chair of the Political Science Department. "She is among the most promising young scholars of American political institutions, and the presidency, in particular; the Carnegie Fellowship will allow her to pursue new and important directions in her own work that will surely have a huge impact on the discipline."
About Sharece Thrower
Thrower joined Vanderbilt in 2016 as an assistant professor of political science. She was named the Cornelius Vanderbilt Dean's Faculty Fellow in October 2018, and is an affiliate of the Center for the Study of Democratic Institutions.
Thrower has nine published or forthcoming articles in prominent scholarly journals, including the American Journal of Political Science; Journal of Politics; Journal of Law, Economics and Organization; and Presidential Studies Quarterly.
In addition to her published research, she is currently completing a co-authored book manuscript, "Legislative Capacity, Executive Power and the Development of Separation of Powers Politics." With support from the Carnegie Fellowship, she will begin her second, solo-authored, book project focused on executive-judicial relations
"In today's political climate, understanding whether the judiciary can effectively constrain increasingly powerful presidents and governors has become more important than ever before. To this end, my new book project seeks to answer three questions about the relationship between the executive and judicial branches of government," Thrower said. "First, what influences judicial review of executive actions? Second, how might the courts shape the exercise of executive power? Finally, in what ways can the executive branch affect judicial review? Finding the answers to these questions is crucial to knowing whether our separation of powers system functions as the Founders intended or if executive power reigns supreme."
Thrower earned her doctorate in politics from Princeton University in 2013. She received her bachelor of arts in political science and economics from The Ohio State University, where she graduated summa cum laude, in 2008.
Carnegie Corporation
The Andrew Carnegie Fellows Program is a continuation of the corporation's more than 100-year history of promoting the advancement and diffusion of knowledge and understanding by supporting the work of a host of institutions, causes, organizations and individual scholars.
Each year as part of the nominating process, the corporation seeks nominations from more than 600 leaders of universities, think tanks, publishers and nonprofit organizations across the nation. For 2019, the corporation received a total of 273 nominations.
"Andrew Carnegie believed in education and understood its influence on the progress of society and mankind. The Andrew Carnegie Fellows Program is an integral part of carrying out the mission he set for our organization," said Vartan Gregorian, president of Carnegie Corporation of New York and president emeritus of Brown University. "Over the past five years, we at Carnegie have been very impressed by the quality, range, and reach of our fellows' work. This year is no exception. We salute this year's class and all of the applicants for demonstrating the vitality of American higher education and scholarship."
A distinguished panel of 16 jurors chose the fellows based on the quality, originality and potential impact of their proposals, as well as each scholar's capacity to communicate the findings to a broad audience. The award is for a period of up to two years and its anticipated result is a book or major study.