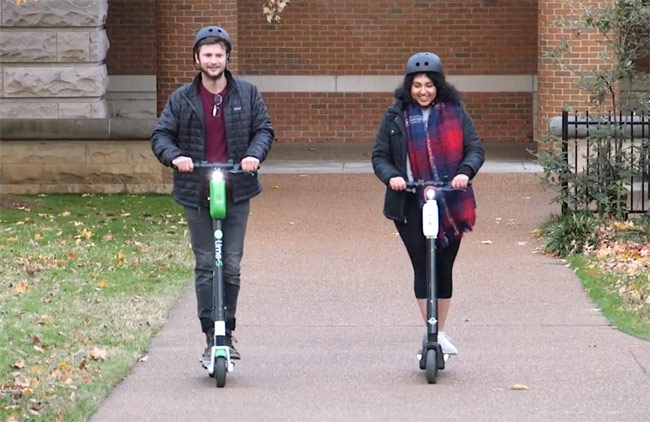 Electric scooters are a flexible, convenient and sustainable way to travel around the Vanderbilt campus and city of Nashville. They're also a valuable component of MoveVU, Vanderbilt's mobility strategy, which aims to diversify transportation options and enhance connectivity at Vanderbilt by integrating pedestrian, bicycle and scooter circulation on campus.
But the safety of scooter users—as well as others making their way around campus—is a top priority of the Vanderbilt community.
Whether you're a beginner or experienced scooter rider, do your part to keep the Vanderbilt campus safe by participating in a free safety class taught by Vanderbilt University Public Safety. The class will provide an overview of the electric scooter program in Nashville and on the VU campus, information on how to safely and responsibly ride and park scooters, how to report accidents and issues, and additional resources.
The class is scheduled for Saturday, April 27, from 9 to 11 a.m. at the Vanderbilt University Police Department, located at 115 28th Ave. S.
The class is open to all Vanderbilt students, faculty and staff members and their dependents. You must be 18 years or older to operate an electric scooter in Nashville and to participate in the VU safety class.
Gotcha, one of several vendors approved to operate on the VU campus, will provide unlocked scooters and helmets, and all class participants will receive a $5 ridership credit from Gotcha to use following the class.
The class is limited to 18 participants. Please register here. In the event of inclement weather on April 27, registered participants will be contacted via email.
Vanderbilt University allows electric bike and scooter companies to operate on campus that have permission to operate in Nashville and also have agreed to Vanderbilt-specific guidelines. These guidelines include strict standards regarding the staging of scooters, movement of scooters, and other safety procedures and requirements.
The April 27 event is the first in a series of scooter and bike safety courses planned by Vanderbilt University Public Safety throughout the year. VUPS regularly assists by moving or removing scooters on campus if there are immediate issues and by responding to any reported incidents.
In addition, Vanderbilt's dockless bike and electric scooter educational outreach group has created a safety video, as well as distributed safety tip cards across campus and in residence halls.
For more information, visit the Dockless Bike and Electric Scooter Share page on the FutureVU website.