Media Inquiries
Latest Stories
Board of Trust votes to appoint him chancellor emeritus in August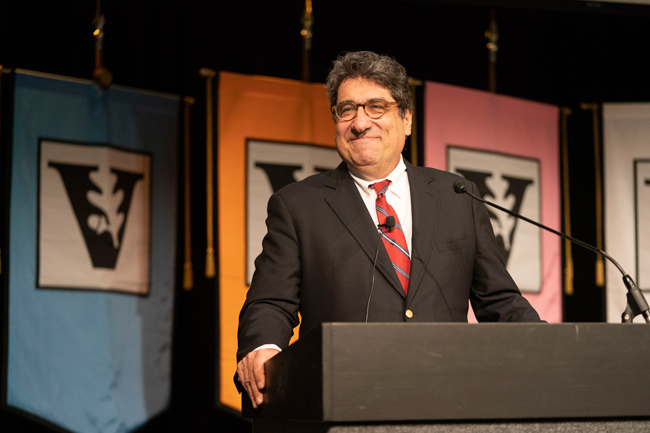 The Vanderbilt University Board of Trust passed a resolution at its April 18 meeting "expressing its deepest and most sincere gratitude" to Chancellor Nicholas S. Zeppos "for his stewardship of Vanderbilt during a period of extraordinary change and growth."
The board resolution pays tribute to Zeppos "for his distinguished 32 years of service to the university, his passionate commitments to the students, faculty and staff and his success in making Vanderbilt University a better place than it was in 2008."
In addition, resolutions have been approved by the Faculty Senate, Vanderbilt Student Government, Vanderbilt University Alumni Board of Directors and the Tennessee General Assembly that commend Zeppos for his outstanding leadership and significant accomplishments as chancellor.
Zeppos was named the university's eighth chancellor on March 1, 2008, after serving as a law professor, associate dean of the Law School, associate provost for academic affairs, and vice chancellor and provost. He recently announced that he will step down as the university's eighth chancellor on Aug. 15, and will return to the faculty as professor of law.
The Board of Trust resolution appoints Zeppos as chancellor emeritus, effective upon his resignation as chancellor on Aug 15.
All four resolutions cite Zeppos' strong commitment to access and equity in education with the 2008 launch of Opportunity Vanderbilt, the university's pioneering financial aid program. Opportunity Vanderbilt has supported more than 10,000 students and raised more than $400 million for scholarships, resulting in the most accomplished and diverse students in the university's history. In addition, Zeppos' commitment to maintaining a welcoming and inclusive environment on campus is noted in all four resolutions.
The resolution presented by Vicki Greene, president of the Faculty Senate, lists several meritorious achievements, including advancing a robust academic vision for the university that prioritizes the intersection of scholarly research and societal progress, institutionalizing a firm commitment to the principles and processes of shared governance with an emphasis on faculty government, and fostering a campus environment of intellectual engagement, academic freedom and intentional dialogue.
Among the accomplishments listed in the state legislative resolution presented by Vice Chancellor for Government and Community Relations Nathan Green are Zeppos' efforts to honor and tell the stories of university trailblazers, including Perry Wallace, who broke the color barrier in Southeastern Conference basketball. The resolution, sponsored by House Speaker Glen Casada, also describes Zeppos as "a leading voice for higher education and the essential value of academic research at the national level." For example, he served as co-chair of the bipartisan U.S. Senate Task Force on Government Regulation of Higher Education, which conducted the foremost national study on the high cost of regulatory burdens on America's research universities. And Zeppos is the current chair of the Association of American Universities Board of Directors.
In addition, he has been a national leader in college athletics, serving as a member of the Knight Commission on Intercollegiate Athletics and president of the Southeastern Conference Executive Committee.
The student government resolution thanks the chancellor for his immense dedication to the university and its student body. In particular, the resolution commends Zeppos for serving as a catalyst for the development and launch of the Martha Rivers Ingram Commons, and setting Vanderbilt upon a transformational path towards a fully residential college experience. The resolution also notes that Zeppos positioned both the university and the medical center for long-term success by reorganizing both into separate, complimentary entities.
The resolution from the Alumni Board of Directors cites the chancellor's building of "lifelong relationships with students and alumni who proudly consider him a friend and mentor" and his engagement of "large audiences of alumni and parents to hear his informative, inspiring and always entertaining university updates."