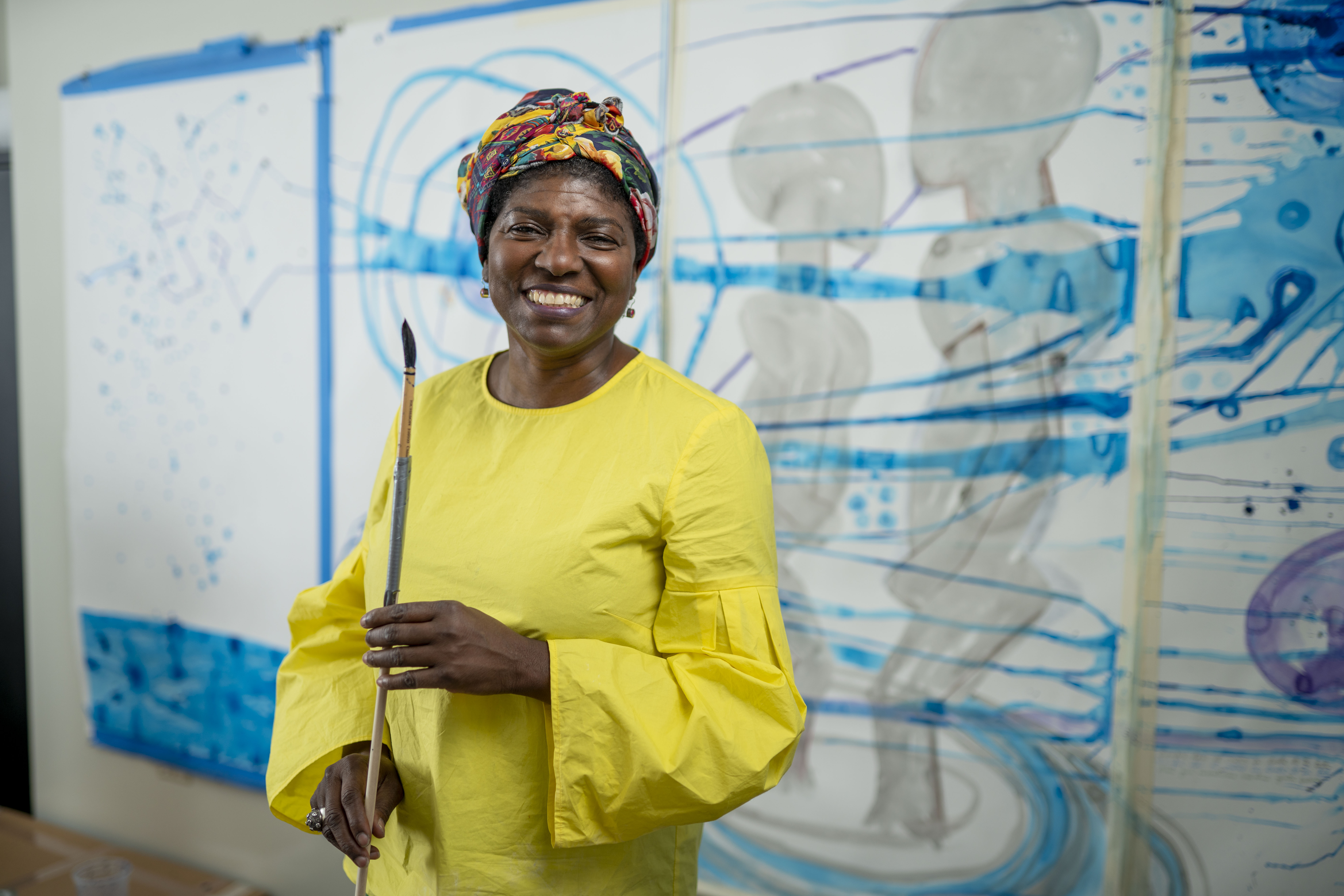 A longtime dream has come true for Maria Magdalena Campos-Pons, who is connecting Nashville to her beloved hometown of Matanzas, Cuba, through a satellite art exhibition under the auspices of the 13th Havana Biennial.
Campos-Pons, the Cornelius Vanderbilt Professor of Fine Arts, has developed a curatorial project rooted in the significant history and culture of Matanzas, which became known hundreds of years ago as "the Athens of Cuba."
She was born and raised in Matanzas, located about 60 miles east of Havana, and her mother and sister remained there after Campos-Pons left in the early 1990s.
"It's always been a special place that I love to come home to for inspiration and restorative energy," Campos-Pons said. "Matanzas is full of gifted and talented artists, poets, philosophers and other creatives, but they have never received the global recognition that they deserve. This is an opportunity to use my expertise as an artist and as an educator to give back to a place that has done so much for me."
For many years, Campos-Pons has been advocating for the Havana Biennial to put a spotlight on the art and culture of Matanzas. She was overjoyed when she received her invitation to this year's prestigious international art event and astonished to learn that she was in charge of an exhibition in Matanzas. The overall theme of the biennial is "The Construction of the Possible." She chose "Intermittent Rivers" for the exhibition in Matanzas, which is noted for its beautiful waterways and bridges. The 2019 event is the first time the visual arts exhibition has extended beyond Havana into other parts of Cuba, including Matanzas.
"I have been thinking for very long time of how to highlight the beauty and cultural history of this amazing city, which had a very strong economy as the center of the sugar industry and a significant black population that preserved the traditions of the African diaspora," Campos-Pons said.
Among those participating in the exhibition are Alejandro Acierto, Mellon Assistant Professor of Digital Art and New Media; Farrar Cusomato, senior lecturer of art; Jana Harper, associate professor of the practice of art; and Vesna Pavlovíc, associate professor of art.
"I am thrilled that Campos-Pons has been able to build a bridge between Vanderbilt University and the 13th Havana Biennial," said Mark Hosford, associate professor of art and department chair. "I can't understate the significance of having so many Vanderbilt faculty exhibiting at such a prestigious event. This exhibition showcases the incredible artists we have in our department, thanks to her dedication."
Acierto has created a multimedia installation centering on the ethical issues surrounding the wealthy tourists' high demand for genuine Cuban cigars and the counterfeit ones produced and sold by economically-disadvantaged citizens there.
With a sampling of her paintings, Cusomato will raise issues surrounding human relationships with the environment and offer depictions of the Tennessee landscape.
Harper is working with the Matanzas-based dance group Danza Espiral Company and its director, Lilian Padrón on a performance.
Pavlovíc is collaborating with Mantanzas-based painter Yuriel Michel García Tápanes on a video-installation that will include film and audio recordings made in both Alamar, Cuba; and Belgrade, Serbia; Pavlovíc's native city.
In addition, some students in one of Campos-Pons' classes, "Selected Topics – Artists and Social Design," are traveling to Cuba to take part in the biennial.
Campos-Pons is hoping that Nashville is on its way to becoming a sister city of Matanzas. "Although I left Cuba in the early 90s, there will always be a place in my heart for the sustained vitality of Cuban culture, especially around Matanzas," she said. "I have found a new home here in Nashville, and at Vanderbilt, which has embraced me and allowed my work to blossom. I have been longing to give back to the place where everything started for me, and this is an important first step."