The U.S. Department of State's Bureau of Educational and Cultural Affairs has announced that Vanderbilt University is among the U.S. colleges and universities that produced the most Fulbright U.S. students in 2018-19. Among research institutions, Vanderbilt ranked 17th for percentage of applicants who were awarded grants.
The Fulbright Program is the U.S. government's flagship international educational exchange program. Top-producing institutions are highlighted annually in The Chronicle of Higher Education.
Of Vanderbilt's 12 Fulbright recipients, eight are currently serving as English teaching assistants in Brazil, France, Malaysia, South Korea, Spain, Taiwan, Vietnam and Senegal. Three other Fulbright recipients are conducting eight- to 10-month independent research projects in Germany and India, and one Fulbright recipient is completing a business internship in Mexico.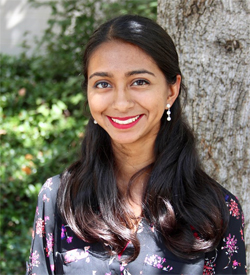 One current Fulbrighter, Deepa Rajan, who graduated with a neuroscience degree in 2018, has been conducting research in Bangalore, India.
"The highly collaborative lab I am currently a part of due to the Fulbright Scholarship has exposed me to brilliantly creative research that integrates various disciplines and builds on synergy across diverse fields," Rajan said. "Every day I am surrounded by people who are in awe of different aspects of the natural world, and the enthusiasm is infectious." After her Fulbright award term is complete, Rajan will begin a joint M.D.-Ph.D. program at the University of California–San Francisco, where she'll continue to pursue her research goals in neuroscience and biophysics.
Since its inception in 1946, the Fulbright program has provided more than 370,000 participants—chosen for their academic merit and leadership potential—with the opportunity to exchange ideas and contribute to finding solutions to shared international concerns. Some 1,900 U.S. students, artists and young professionals in more than 100 different fields of study are offered Fulbright program grants to study, teach English and conduct research annually. The Fulbright U.S. Student Program operates in more than 140 countries throughout the world.
The Fulbright program is open to rising seniors, graduate students and alumni in all academic disciplines. United States citizenship is required.
For more information about the Fulbright award and other nationally competitive fellowships, visit the Career Center's website.