Media Inquiries
Latest Stories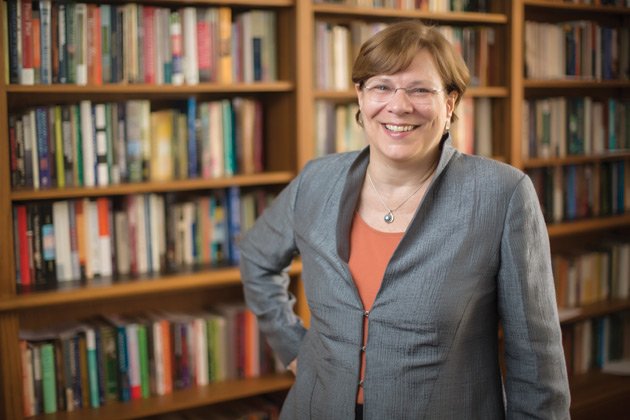 Lauren Benton, the Nelson O. Tyrone Jr. Professor of History and professor of law at Vanderbilt University, was named a 2019 John Simon Guggenheim Memorial Foundation Fellow.
Benton was selected as one of 168 scholars, artists and writers from a group of almost 3,000 applicants in the foundation's 95th competition. Fellowships recognize exceptional capacity for productive scholarship or exceptional creative ability in the arts.
Benton's fellowship is one of only three in European and Latin American history. She is an internationally recognized historian of world history, the legal history of European empires and the history of international law.
"The Guggenheim is a well-deserved honor for Lauren Benton, who is a gifted scholar in global and legal history," said John Geer, dean of the College of Arts and Science and the Gertrude Conaway Vanderbilt Professor of Political Science. "I am delighted that the Guggenheim Foundation recognizes not only her past achievements but also the promise of the exceptional discoveries to come from her work."
The research that Benton will complete as a Guggenheim fellow examines legal practices surrounding "small wars," in particular widespread patterns of violence such as raiding and captive taking in European empires.
"While many historians have lavished attention on major wars in world history and on the writings of jurists and theologians about war, I am studying low-level conflicts and the way ordinary people justified violence," Benton said. "One of my findings is that vernacular legal cultures have shaped long-lasting frameworks for regulating war and peace."
Benton's research forms part of her larger project to trace the formation of global legal orders before the rise of international law. Her most recent book, Rage for Order: The British Empire and the Origins of International Law, 1800-1850 (coauthored with the Australian historian Lisa Ford), analyzes conflicts over the British imperial constitution and its role in global ordering.
Benton was also awarded the 2019 Toynbee Prize for distinguished contributions to world history.
In addition to receiving a Guggenheim fellowship, Benton has been named a member of the Institute for Advanced Study in Princeton, New Jersey, for 2019-20. After completing research for her project in archives in Seville, Spain, and London, England, this summer, she will begin a year in residence at the institute in September.
Since its establishment in 1925, the Guggenheim Foundation has granted more than $360 million in fellowships to more than 18,000 individuals, many of whom have gone on to receive other internationally recognized honors. The foundation was founded in 1925 by U.S. Sen. Simon Guggenheim and his wife as a memorial to a son who had passed away.