Media Inquiries
Latest Stories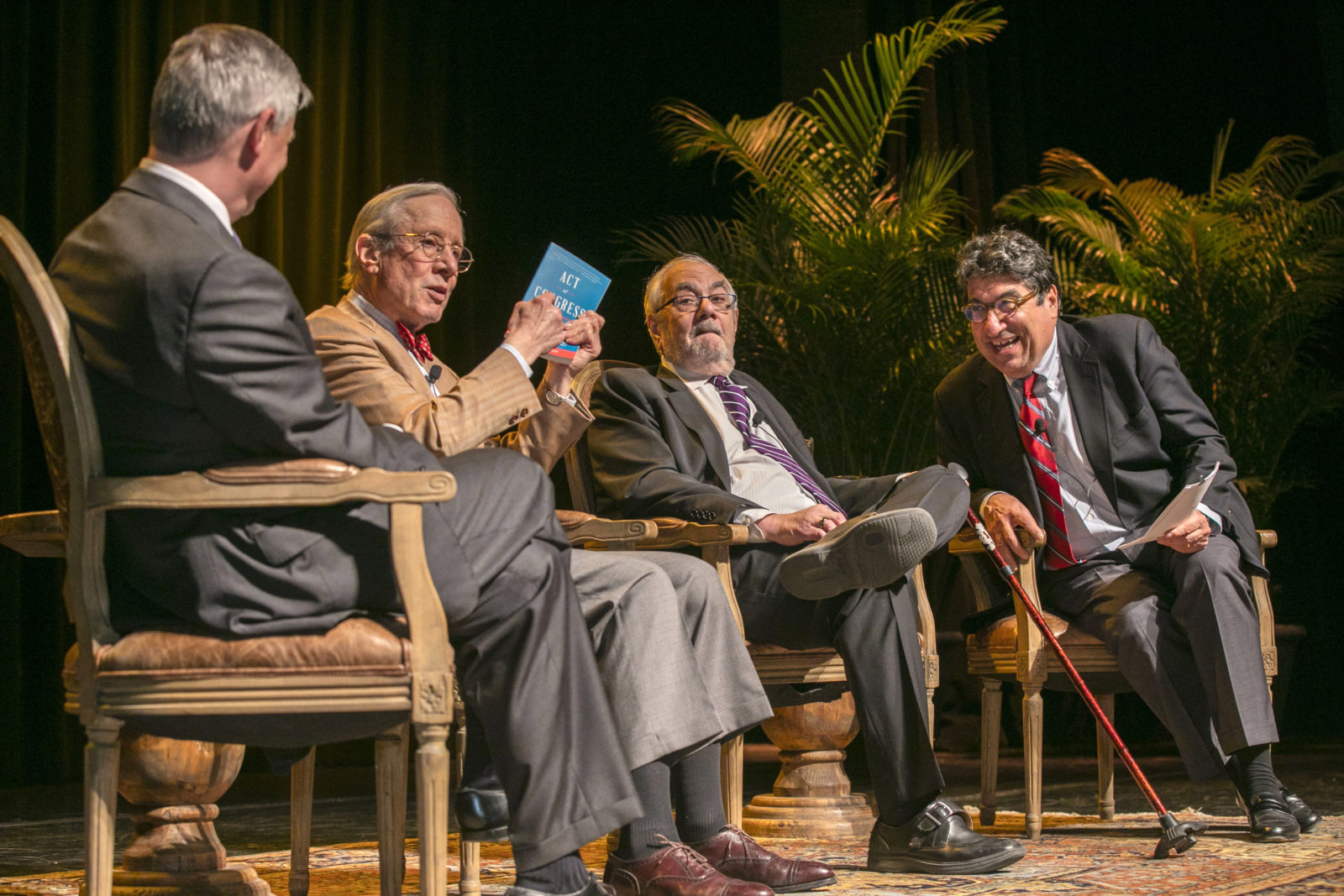 Former congressman Barney Frank and journalist Bob Kaiser took to the Langford Auditorium stage Wednesday, decrying today's highly partisan Congress and what they believe is its lack of appreciation for nuance.
Vanderbilt University Chancellor Nicholas S. Zeppos and Jon Meacham, Carolyn T. and Robert M. Rogers Chair in American Presidency and distinguished visiting professor, joined them for this Chancellor's Lecture Series event.
Frank, who represented Massachusetts's 4th District from 1981 to 2013, helped pass the historic Dodd-Frank Wall Street Reform and Consumer Protection Act in response to the 2007-09 recession. Kaiser, who spent 50 years at the Washington Post, followed him through the process and recounted the experience in his 2013 book "Act of Congress: How America's Essential Institution Works, and How It Doesn't." It is required reading for many political science and law students at Vanderbilt.
Zeppos called the book a fascinating read. "It's a nuanced account of how a bill becomes a law and the complexities of that, but does nuance sell today? Are elected officials willing to be persuaded?" he asked.
"One of the lessons of the book was my realization of how few Barney Franks there are in the House or Senate," Kaiser said. "Most members of Congress voted on Dodd-Frank – the most important piece of financial legislation since the New Deal – without knowing much about it. We do not live in an age of nuance."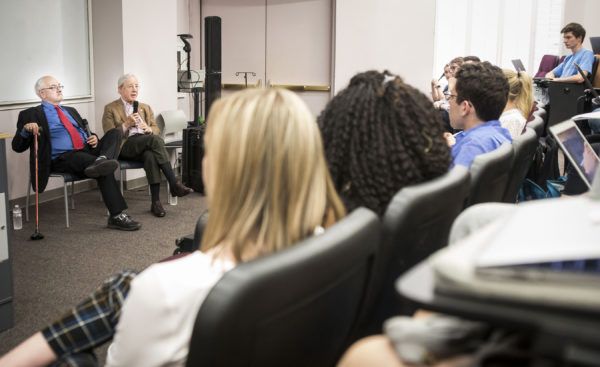 Frank discussed serving in Congress during the recession and how members of both political parties worked with President George W. Bush, who visited Vanderbilt last month, to pass the Troubled Asset Relief Program that stabilized banks and protected homeowners against foreclosure.
"The TARP program will go down in history as the most unpopular, most successful thing Congress ever did," said Frank, who was chair of the Financial Services Committee at the time. "The Democrats were rewarded with one of the worst congressional defeats in history in 2010 for having helped save the economy. Things were still bad, but they were much less bad than they would have been. That's one political argument you should never make."
Frank also briefly discussed coming out in 1987 as gay, making him the first sitting member of Congress to do so voluntarily, and how the AIDS crisis helped prompt his decision. In 2012, he became the first member of Congress to marry a same-sex partner.
The Chancellor's Lecture Series partnered with The Center for Effective Lawmaking to bring Kaiser and Frank to campus. As part of the visit, the two met with students and faculty across different departments on Thursday. Frank met with students from the LGBT policy lab ran by Kitt Carpenter, E. Bronson Ingram Professor of Economics. Kaiser spent time over lunch with students and faculty interested in journalism. Both speakers conducted a question-and-answer session with an American government class taught by John Geer, dean of the college of arts and science.
The Vanderbilt Chancellor's Lecture Series strives to connect the university and the Nashville community with leaders and visionaries who are shaping our world. On April 30, Mae Jemison, an accomplished educator, engineer, entrepreneur and physician who was also the first African-American woman in space, and Rush Holt, a physicist and former U.S. Congressman from New Jersey's 12th District (1999-2015) and chief executive officer of the American Association for the Advancement of Science, will sit down with Zeppos to discuss new frontiers in scientific thought and the importance of the STEM fields for America's progress. The non-ticketed event is open to the public.
For more information about that event and the series, visit the Chancellor's Lecture Series website, email cls@vanderbilt.edu, or follow @Nick_Zeppos on Twitter.