Media Inquiries
Latest Stories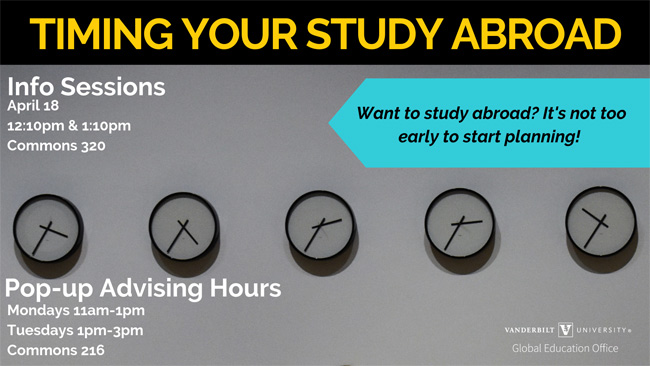 The Global Education Office will host several events at The Martha Rivers Ingram Commons to encourage current first-year students to begin planning their study abroad experiences. You'll have more options if you've taken the time to plan—maximize your opportunities by meeting with a GEO team member.
Commons drop-in hours
The Commons Center, Room 216
Every Monday and Tuesday through Reading Day
Monday, April 15, 11 a.m.–1 p.m.
Tuesday, April 16, 1–3 p.m.
Monday, April 22, 11 a.m.–1 p.m.
Tuesday, April 23, 1–3 p.m.
Presentation: "Timing Your Study Abroad"
The Commons Center, Room 320
Information about study abroad programs, course credit, finances, and more
Thursday, April 18, 12:10 p.m.
Thursday, April 18, 1:10 p.m.
Information table
The Commons Center Atrium
Over the lunch hour between now and exams, keep an eye out for GEO's information table.
In addition to these events, please make note that Vanderbilt students studying abroad for fall 2019 receive:
Up to $1,000 in scholarships for students on eligible programs—no additional applications required
Early registration for spring 2020 classes
Priority for spring housing assignments
A half-point increase in the housing lottery bonus for off-campus authorization and single rooms for the following academic year
For more information about these events, visit GEO's Events and Outreach page. To learn more about other benefits of studying abroad in the fall, visit GEO's Fall Abroad page.