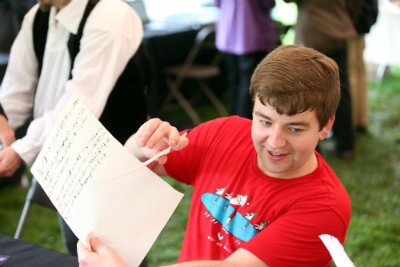 Travel back in time for an Elizabethan-style celebration of William Shakespeare's 455th birthday on the university's Library Lawn April 17 when the Jean and Alexander Heard Libraries and the Nashville Shakespeare Festival hold the Bard's Birthday Bash.
The festive event, which is free and open to the public from 11 a.m. to 1 p.m., will include open-mic Shakespeareoke, jugglers, musicians (Blair School of Music faculty) and Shakespeare himself at an Elizabethan selfie station. Cake and (ginger) ale will be served as well as 2B and Not2B cookies.
"The library is looking forward to hosting this highly creative, educational as well as fun event for the second year in a row," said University Librarian Valerie Hotchkiss.  "We would love a large student turnout at what we hope will become an annual spring tradition at Vanderbilt."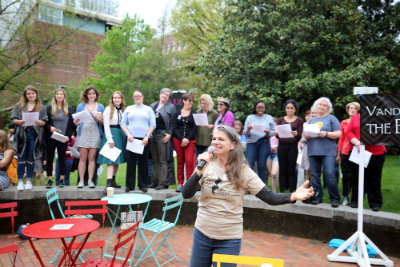 At 12:45 p.m. all aspiring Romeos and Juliets are invited to crowdsource Shakespeare with the "Biggest Balcony Scene Ever."
"Casual dress is welcome but we encourage participants to dress up for the balcony scene," said Denice Hicks, executive artistic director of the Nashville Shakespeare Festival. "We all speak together, and you can choose to be either Romeo or Juliet!"
Copies of the edited script are available by clicking here.
Among the hands-on activities will be "writing with a quill" and fencing instruction for those who want to learn.
Parking will be available in the Wesley Place garage across from the Central Library. Joining the library and festival as co-sponsors are the Departments of English and Theatre, The Martha Rivers Ingram Commons, and Nashville Improv; with support from the Blair School of Music, Nashville Public Library and Parnassus Bookstore.
For more information, email Nancy Dwyer.