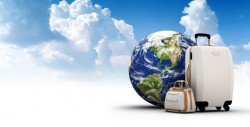 Vanderbilt Travel will host a Global Entry enrollment event with U.S. Customs and Border Patrol on April 30 and May 1 and will conduct on-site interviews at Vanderbilt Finance, located in the Baker Building, Suite 900, for Vanderbilt employees and their immediate family members who travel internationally.
What is Global Entry?
Global Entry is a U.S. Customs and Border Protection (CBP) program that allows expedited clearance for pre-approved, low-risk travelers upon arrival in the United States and includes TSA Pre-Check screening benefits where available. Members enter the United States through automatic kiosks at select airports.
Global Entry also provides access to the TSA Pre-Check initiative, which offers expedited screening through domestic airport security checkpoints. Benefits of TSA Pre-Check include being able to leave shoes, light outerwear and belts on, and not having to remove laptops from carrying cases.
With the enrollment event quickly approaching, any applicant wishing to take advantage of this opportunity should start the application process immediately.
Before applying for Global Entry online, learn about the eligibility requirements.
How to apply
Vanderbilt travelers can create a Trusted Traveler Programs (TTP) account by visiting https://ttp.cbp.dhs.gov/ and completing the application.
Applicants are required to pay a $100 non-refundable fee upon submission of each completed application.
After accepting your completed application and fee, CBP will review your application. If your application is conditionally approved, then you will be instructed to make an appointment.
When making your appointment please select:

On-site interview: NOFO- Vanderbilt 2019
Access code: 3N788V9A5 (to secure your appointment date and time)

You will need to bring your valid passport(s) book and one other form of identification, such as a driver's license or ID card to the interview. If you are a lawful permanent resident, you must present your machine-readable permanent resident card.
For more information about the CBP's Global Entry process, please read these Frequently Asked Questions.
For information about Vanderbilt's Global Entry event, please contact travel@vanderbilt.edu. Enrollment for this event is limited and specifically intended for Vanderbilt travelers and their immediate families.