Media Inquiries
Latest Stories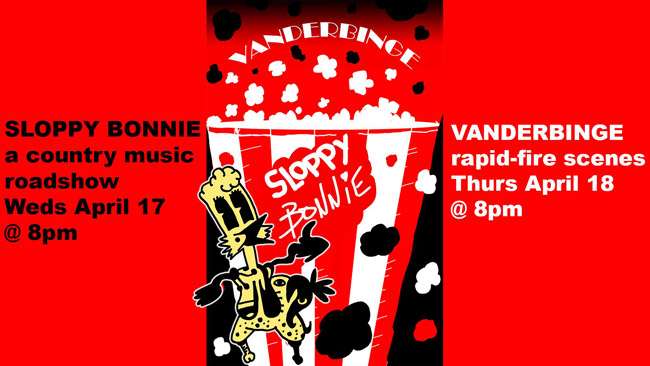 Vanderbilt University Theatre and the Department of Cinema and Media Arts will present a two-night event at Neely Auditorium April 17-18.
Sloppy Bonnie, a country music roadshow by Vanderbilt writer-in-residence Krista Knight and composer Barry Brinegar, begins at 8 p.m. Wednesday, April 17. The production is directed Leah Lowe, associate professor of theatre and chair of the department, and will feature local professional actor Lauren Berst and a cast of Vanderbilt students.
Vanderbinge, a collection of rapid-fire scenes of original student work from the Advanced Playwriting and Screenwriting classs, begins at 8 p.m. Thursday, April 18.
Both performances take place in Neely Auditorium. Admission is free, and all are welcome to attend.
Descriptions of the productions are as follows:
Sloppy Bonnie – Deeply moved by some long-forgotten Julia Roberts vehicle, special ed teacher Bonnie (née Bonita, aka "Sloppy Bonnie" when she's drunk) sets out on what she hopes will be an inspirational road trip to find her lover, who has ghosted her ever since he left for a revival retreat in the mountains. But at every stop, her daytime TV femininity spells disaster for all in her path.
Vanderbinge – Students from writer-in-residence Krista Knight's Advanced Playwriting and Screenwriting classes will present three-minute scenes and pitches for original work that they have developed over the course of the semester. With content ranging from a battle between sentient universal forces to a young woman hosting her own funeral, these rapid-fire scenes are sure to entertain.
For more information, visit the events' Facebook page.
For questions, contact Foster Swartz, assistant producer, at 941-266-3618 or foster.h.swartz@vanderbilt.edu.