Chancellor Nicholas S. Zeppos emphasized the vital importance of faculty leadership to guide the future direction of Vanderbilt when he delivered his 24th and final faculty assembly address on April 4.
Zeppos recently announced that he will step down as chancellor on Aug. 15. He told a large crowd at the Student Life Center that it has been a great honor and privilege to serve the Vanderbilt community in this role.
The chancellor shared verses of some of his favorite sources of prose and verse, which he described as "my memes…my verbal talismans…my worry beads for getting through my life and work the past nearly 12 years." The selected literary works were Ecclesiastes 3, O Captain, My Captain by Walt Whitman, the St. Crispin's Day speech in Henry the V by William Shakespeare, and Blues in Stereo by Langston Hughes.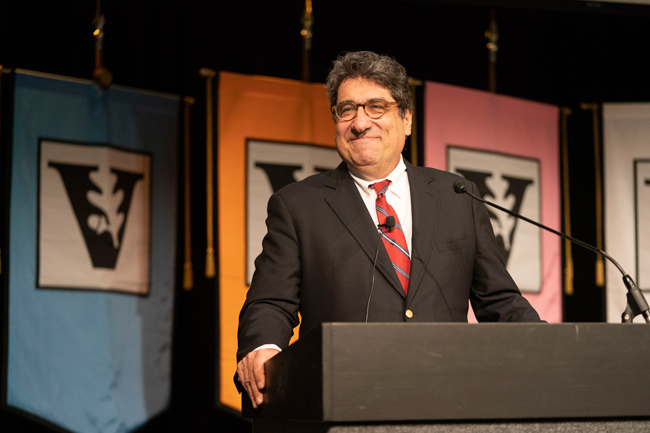 Zeppos, who will return to teaching at the Law School after a year-long sabbatical, focused much of his talk on his faculty colleagues. "Perhaps the most affirming experience has been the awarding of hundreds of endowed chairs to recognize extraordinary achievements in a wide range of disciplines," he said. "I've also enjoyed helping recruit terrific lateral hires who bring talent and strength to campus, increasing our national and international stature. And I am pleased to see the addition of so many wonderful junior faculty, whom we must support and cherish as they are the future of our great university."
Zeppos noted that the university is fortunate to have the outstanding leadership of Provost and Vice Chancellor for Academic Affairs Susan R. Wente, who will serve as interim chancellor for the next academic year. "This is no time to pause or slow down," Zeppos said. "You have all worked with Provost Wente to craft big, bold plans for new and renovated facilities and exciting investments in many new academic programs across the campus. You are truly exceptional faculty members, and you must continue to lead."
The university has changed dramatically over the past three decades since Zeppos' arrival as a law professor. There are also many changes from just 10 years ago. "The Vanderbilt of the future will be different from the school we know today," he said. "I surely have my views on what should be the direction of that change, including a continuation of excellence but becoming much more inclusive and equitable. In addition, I would hope that we would continue to be civil, collaborative, trans-institutional and open for reasoned debate. Your ninth chancellor will be a pivotal individual in setting that direction, but so will you."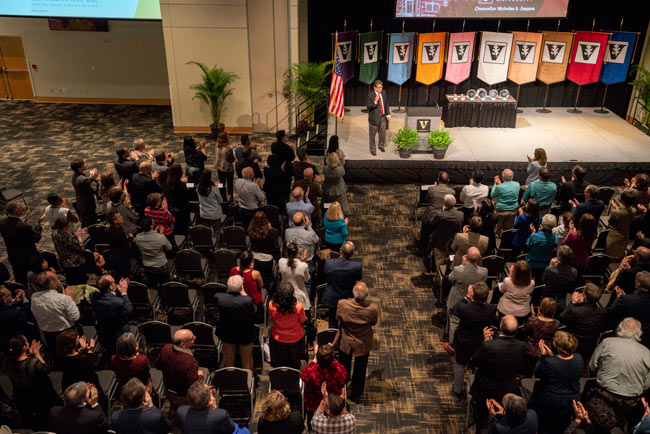 Following his remarks, Zeppos and Faculty Senate Chair Vicki Greene announced the recipients of six prestigious faculty awards. Read about the honorees.
The Blair String Quartet, accompanied by Blair School of Music students Dawning Welliver, violin, Olivia Taylor, violin, Isabel Tannenbaum, viola, and Javin Bose, cello, opened the Spring Faculty Assembly with the "Presto" from Octet in E-flat Major, op. 20, by Felix Mendelssohn.
In addition, Larry M. Bartels, who holds the May Werthan Shayne Chair of Public Policy and Social Science, presented "Right-Wing Populism: A Reservoir, Not a Wave," an overview of his research finding  the current "wave" of right-wing populist sentiment is actually a myth. Bartels is also co-director of the Center for the Study of Democratic Institutions in the Department of Political Science.