Audience encouraged to vote on fate of refugees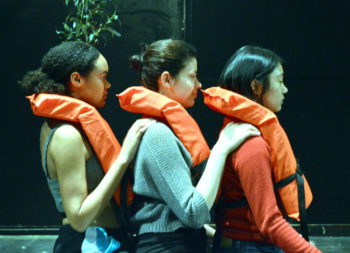 Vanderbilt University Theatre has adapted a fifth-century Greek tragedy by Aeschylus to spotlight the contemporary global immigration crisis in an April 4-7 production at Neely Auditorium.
The Suppliants: On a Tragic Figure is directed by Jonathan Vandenberg, senior lecturer in theatre and a professional director. He earned his MFA in directing at Columbia University.
"What is remarkable about one of the oldest known plays in existence is its relevance to the current migration crisis and the plight of refugees," Vandenberg said. "A suppliant is defined as an individual asking a party or group with power for assistance. In this story, a group of suppliants from Africa cross the Mediterranean Sea to attempt to settle in Greece."
One of the student-created twists in this adaptation is that the audience can vote at the play's end on whether the suppliants, also known as refugees, are able to stay in Greece or must leave.   
Vandenberg said that he strived to cast the best actors with an eye toward internationalism, given the subject matter. There are cast and crew members from a wide range of countries, including China, Germany, Korea, the United Kingdom, the United States and Uzbekistan.
Alexandra Sargent-Capps, senior lecturer in theatre, designed the costumes. They are current street fashions that reflect the production's contemporary theme. The minimal set, with an austere look and feel, was designed by Matthew Stratton, senior lecturer in theatre. Guest artist Richard Davis is in charge of lighting.
The production, which is approximately one hour in length, will begin at 8 p.m. on April 4, 5 and 6. After the April 5 performance, there will be a post-show conversation with Mariano Sana, associate professor of sociology, who studies international migration. The discussion will be moderated by Christin Essin, associate professor of theatre.
A Sunday matinee on April 7 at 2 p.m. will close the production. General admission is $10 with reduced prices for students. Reserve tickets here, or purchase them at the Sarratt Box Office.