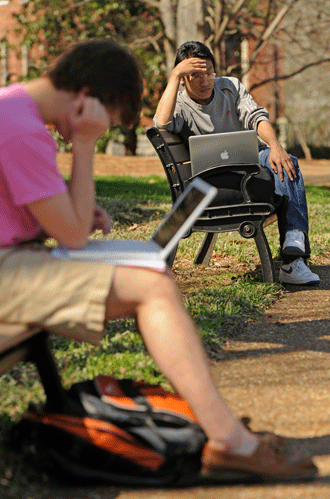 VUIT will begin implementing additional wireless options for the campus community and visitors in May.
The new options will include: 
1. Enhanced Guest/Visitor Access: In an effort to provide an improved wireless user experience for campus guests, as well as increased security for the VU network, VUIT will implement a new wireless network called vuGuest.
2. Education Roaming: eduroam will provide another option for easy and secure network access for faculty, staff and students visiting from other institutions by allowing them to sign in to eduroam with credentials from their own institution. Conversely, Vanderbilt faculty, staff and students will be able to use eduroam wireless services while visiting other participating higher education institutions.
3. Streamlined Onboarding: VUIT will be implementing a new, streamlined onboarding method to configure new devices to connect to the Vanderbilt wireless network, replacing the current vuSetup process. The new method will use a webpage that will allow users to onboard to the VU wireless network without having to physically be on campus. The webpage also will serve as a central location for helpful wireless information.
4. Device Registration: In addition to streamlined onboarding, the new onboarding webpage also will provide an option for users to self-register those devices that are not capable of using credentials, such as vuNetID and e-password. Some examples of these devices include sensor technology, gaming consoles and other "consumer-like" devices.
Additional announcements and instructions will be made available as the implementation date nears.