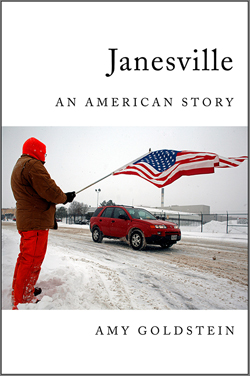 Please join author and Pulitzer Prize-winning journalist Amy Goldstein and Owen Graduate School of Management professor David Parsley on Wednesday, April 3, for a discussion of Goldstein's book, Janesville: An American Story. The event is scheduled from 1:30 to 3 p.m. in the Central Library Community Room.
What happens to a town when its oldest and biggest employer closes its doors forever? This happened in Janesville, Wisconsin, two days before Christmas of 2008. Goldstein's book documents how the lives of Janesville's citizens changed as they struggled to adapt, hold their families together, and get back to a place where they were before economic disaster struck.
During her three decades as a staff writer at The Washington Post, Goldstein's journalism has taken her from homeless shelters to Air Force One. She relishes a good breaking news story as much as an in-depth investigation. She is especially drawn to stories that lie at the intersection of politics and public policy and explore the effects of both on ordinary people. Janesville, An American Story, her first book, reflects that.
For more information about the April 3 event, email catherine.milsom@owen.vanderbilt.edu.