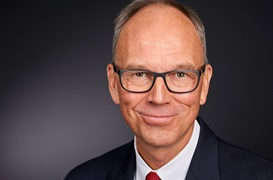 United States Olympic Committee General Counsel Chris McCleary is the featured speaker at the next program in the yearlong Sports and Society Initiative series, "A World of Possibilities: Examining the Olympics from Diverse Angles." The program, titled "What is the Olympic Movement and Where Do We Fit In?" is set for April 2 from 11:30 a.m. to 1 p.m. in the McGugin Center's Football Meeting Room.
During the April 2 program, McCleary will discuss how the global Olympic movement operates and how USOC is set up to work in that environment, its role and responsibility during a time of transition and controversy within the Olympic movement, and what exactly USOC should be trying to accomplish for the country and the world.
McCleary has served as general counsel for the United States Olympic Committee since January 2015. He leads a team of legal professionals responsible for all USOC legal, contract, intellectual property and dispute resolution matters. He also serves as the organization's ethics officer and leads USOC's governance work, serving as corporate secretary to the USOC board of directors. Additionally, McCleary is a member of the Association of National Olympic Committee's Legal Commission and oversees USOC's partnerships with the World Anti-doping Agency, the U.S. Anti-doping Agency and the Partnership for Clean Competition.
McCleary previously worked for VISA, Inc., serving in several roles, including eight years as senior vice president and senior associate general counsel of global brand and client management. He also worked as general counsel for Move.com and practiced law with Brobeck, Phileger and Harrison, concentrating on intellectual property matters.
The event is free and open to the public, and light refreshments will be served. Parking is available in the 25th Avenue Garage at the corner of 25th Avenue South and Highland Avenue.
For more information on this program and others in the series, including "The Legacy of the Rio Olympics: Was it Worth It?" on March 28, visit the Sports and Society Initiative website.