Buchanan Library Fellows' exhibition explores the history of Peabody College's predecessor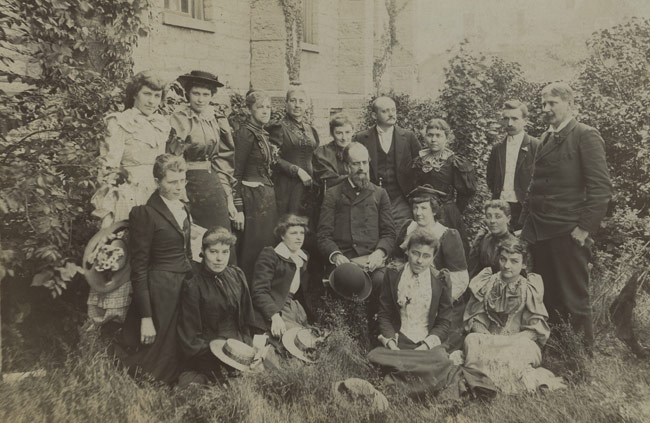 Over the spring semester, two undergraduate students have been examining the history of one of Nashville's early institutions of higher learning, the University of Nashville (1826-1909). Using prior scholarship and primary resources in the University of Nashville and Peabody College collections, Sharonda Adams and Eric Asen curated exhibitions that explore student life in the 19th century. What they found may surprise you about how similar and dissimilar the student experience was more than 100 years ago.
Members of the Vanderbilt campus and Nashville community are invited to join the students as they present on what they learned. The reception, which takes place in Central Library's Second Floor Gallery, begins at 3 p.m. Wednesday, March 27.
The University of Nashville, which evolved out of Davidson Academy (est. 1785) and Cumberland College (est. 1806), was located on present-day Rutledge Hill. In time, the school became the Peabody College for Teachers, moving to its present location on 21st Avenue South. The school archives are housed in Vanderbilt's Special Collections and University Archives.
The project is part of the Poppy Pickering and Richard D. Buchanan Library Fellowship program, which connects students with library resources and librarians to learn interpretive and technological skills and the role of libraries in lifelong learning. Since 2012, the fellows program has graduated 68 students.
The call for applicants for the fall 2019 semester is out now. Projects include the early history of Vanderbilt, using Geographic Information Systems (GIS) to solve spatial problems, working with XQuery to identify patterns in textual data, and a study of the evolution of the trees on the Peabody esplanade using archival resources and GIS technology.
More information about the fellowships may be found on the libraries' website or by contacting Celia Walker.