Media Inquiries
Latest Stories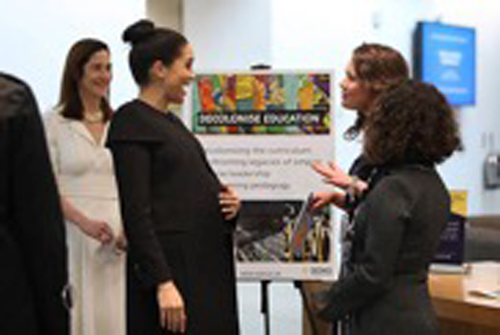 Vanderbilt Class of 2018 graduate Logan Brown can add a new highlight to her year of learning through the Marshall Scholarship program—meeting a member of the British royal family. The Duchess of Sussex, Meghan Markle, recently attended an event sponsored by the Association of Commonwealth Universities (ACU) to meet with students, faculty and representatives from member institutions. Through her new role as patron of the ACU, Markle sought to learn more about how the organization works to promote inclusion, access and excellence in higher education.
Brown, who is pursuing a one-year master's degree in terrorism, security and society at King's College London (an ACU member institution), was selected to represent the Marshall Scholarship program and share her experience as a participant. Funded by the British government, the Marshall Scholarship provides exceptional young Americans with the opportunity for one to two years of graduate study in any field at a U.K. institution. Scholars are selected on the basis of academic merit, leadership potential and ambassadorial potential.
"Living in London as a Marshall Scholar has surpassed all of my expectations," Brown said. "I am learning practical knowledge in my course that will aid me in my future career, but I am also traveling and taking advantage of opportunities throughout the city. Whether it be chasing sheep on mountains in Scotland or attending the World Chess Championship, I am appreciating all that Britain has to offer.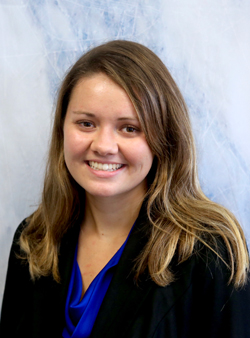 "My favorite aspect of the scholarship is the other Marshall Scholars," Brown noted. "They are all passionate about a variety of subjects, and I enjoy learning from them. They inspire me and I have made lifelong friends." After her year in London concludes, Brown plans to attend law school.
The event also gave Brown a chance to showcase her book, Denali Dreams, which she presented to Markle. Denali Dreams is a children's book promoting a positive anti-tobacco message to American Indian youth. Brown authored the book after learning that American Indians have the highest smoking rate among racial and ethnic groups. The book has been distributed by the Bureau of Indian Education within the U.S. Department of the Interior to more than 180 Native American schools to increase tobacco prevention education among schoolchildren.
Denali Dreams provided Brown with an opportunity to discuss with Markle how education can make a difference in communities. "I am very grateful to have been able to meet the duchess," Brown said. "It was a once-in-a-lifetime opportunity. We discussed my book, my counterterrorism research, and the impact that higher education has had on me. She asked informed questions and seemed genuinely curious about my experiences. I even got to tell her about my time at Vanderbilt. She was very excited when I gave her a copy of my book. I wrote a message to 'Baby Sussex' in my book and she told me she would read it." Brown intends to take her impact a step further by turning Denali Dreams into a television series in the near future.
Denali Dreams is the product of Brown's involvement in the Youth Activism Fellowship, a yearlong leadership development and community activism program sponsored by the Truth Initiative. Throughout the program, fellows learn from public health leaders; receive training on tobacco-related health equity, regulatory policy and media advocacy and communications; and develop and execute tobacco-control projects in their communities.
A Chancellor's Scholar at Vanderbilt, Brown made the most of her time at the university. As part of her human and organizational development honors seminar, she researched the use of children's literature by the Taliban and the best practices for responding to terrorism events using video forensics.
In addition, Brown interned at the U.S. Department of Defense's Daniel K. Inouye Asia-Pacific Center for Security Studies in Honolulu, Hawaii. She also studied abroad at East China Normal University and at the American University in Dubai as a William Jefferson Clinton Ambassador. Brown was recognized as the top graduating student at Peabody College with the Founder's Medal in 2018.
Brown said of the Marshall Scholarship and fellowship application process: "I enjoyed preparing my applications. The process forced me to reflect on my experiences, connect all that I had learned, and prepare myself for the future. I am incredibly grateful for the Vanderbilt Career Center and the faculty throughout Vanderbilt who assisted me in the process."
Advising and support for post-baccalaureate opportunities, including prestigious fellowships and scholarships, is housed in the Vanderbilt Career Center.