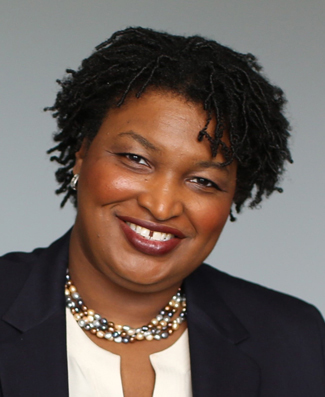 UPDATE 03/12/2019: This event is sold out. The wait list will become active starting at noon on Wednesday, March 13 and will close 5 p.m. Friday, March 15. Members of the wait list will be alerted of their ticketing status by 6:30 p.m. Monday, March 18 (24 hours prior to event).
---
On Tuesday, March 19, Stacey Abrams will visit the Vanderbilt campus for a full day of activities and a one-on-one moderated discussion with Chancellor Nicholas S. Zeppos scheduled for 6:30 p.m. in Langford Auditorium. The event is part of the ongoing Chancellor's Lecture Series. Free tickets for the lecture will be available via TicketWeb starting at noon on Tuesday, March 12.
Tickets for this event are open to the public and will be distributed on a first-come basis. The event is limited to one ticket per person. In the event of a sellout, wait list information will be posted on the CLS website.
Abrams, minority leader of the Georgia House of Representatives from 2011 to 2017, made headlines last year by becoming the first black female gubernatorial nominee of a major U.S. political party when she ran for governor of Georgia. In February, Abrams delivered the nationally televised Democratic response to the State of the Union address.
Considered by many to be a rising star in the Democratic Party, Abrams will discuss her experiences on the campaign trail and her current grassroots efforts around voting rights in America.
The Vanderbilt Chancellor's Lecture Series strives to connect the university and the Nashville community with leaders and visionaries who are shaping our world. For more information about the series, visit the Chancellor's Lecture Series website, email cls@vanderbilt.edu, or follow @Nick_Zeppos on Twitter.