Kids will get to examine real brains, undergo an eye-tracking experiment and visualize their own brainwaves during this year's Brain Awareness Week "Brain Blast" sponsored by the Vanderbilt Brain Institute as part of Brain Awareness Week
Brain Blast is a half-day of free, hands-on activities for children and adults. This year's event will be held from 10 a.m. to 2 p.m., Saturday, March 16, at the Downtown Nashville Public Library where children can attend a variety of interactive booths and leave with their own goody bag of brain-themed swag. Guests will receive free 90-minute parking with a validated ticket.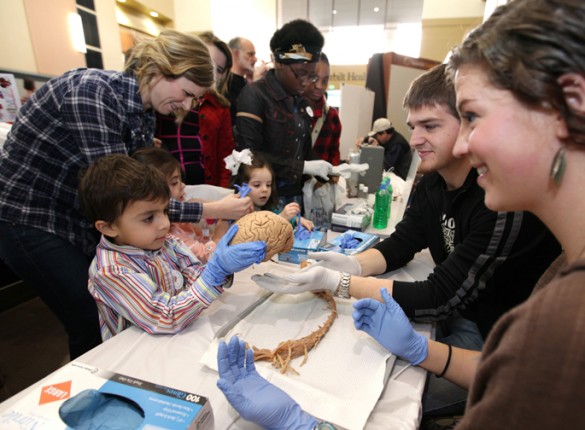 "Brain Blast is an invitation for children and their families to come discover the brain and find out the fun in asking questions about how it makes us who we are," said Suzana Herculano-Houzel, associate director for communications for the Vanderbilt Brain Institute. "By encouraging kids to ask questions and find things out for themselves, Brain Blast hopes to awaken the scientist in everyone and help form the next generation of researchers."
Brain Awareness Week is a nationwide effort of the Society for Neuroscience aimed at promoting the benefits of brain research. Vanderbilt graduate students have worked with faculty advisors to develop the Brain Blast activities in conjunction with this national push.
For more information about this year's Brain Blast, contact Beth Sims at beth.sims@vanderbilt.edu or 615-936-3705.