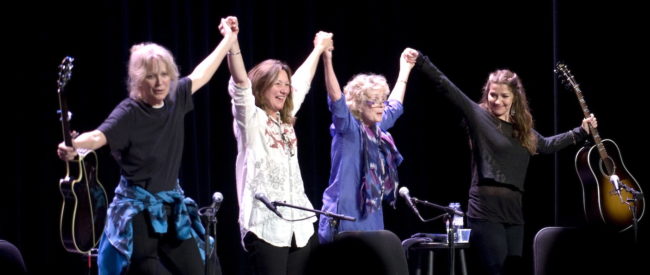 "An Evening of Stories and Songs with Lee Smith, Jill McCorkle, Marshall Chapman and Matraca Berg," a fundraiser for Vanderbilt's Jean and Alexander Heard Libraries, will take place at the Belcourt Theatre on April 11.
Show time is 7:30 p.m. The hour-long performance will be followed by a book and CD signing.
Since 1998, Smith and McCorkle, both New York Times best-selling authors, have performed with Nashville-based songwriters Chapman and Berg on the rare occasions their schedules permit. The collaboration began when their musical Good Ol' Girls premiered in Chapel Hill, North Carolina. The New York Times called it "a feminist literary country music review." Adapted from the fiction of Smith and McCorkle and featuring 14 songs by Berg and Chapman, Good Ol' Girls opened off-Broadway in 2010.
"The show involves real actresses and a band," Smith says. "But the four of us had so much fun whenever we got together, that we started performing our own version of Good Ol' Girls, which has morphed into something else over the years."
"We never know what will happen whenever the four of us are onstage," Chapman says, laughing. "But, thank God, something always does."
Tickets are $45 for regular seating. Preferred patron seats, which include a gift bag, are available for $145. To purchase tickets, click here.
Chapman, who was born in Spartanburg, South Carolina, is a 1971 Vanderbilt graduate. She has released 13 albums, including her latest, Blaze of Glory, which was hailed a masterpiece. She is the author of two books—Goodbye, Little Rock and Roller and They Came to Nashville. More recently, she's been cast in movies, including Country Strong, Mississippi Grind and Novitiate. Among those who have recorded Chapman's songs are Emmylou Harris, Joe Cocker, Irma Thomas and Jimmy Buffett.
Earlier this year Chapman donated her papers relating to her songs, performances, writings, movies and more to Vanderbilt's Heard Libraries. An exhibition on Chapman's career, The Iconoclastic Marshall Chapman, is on display in the Vanderbilt Central Library lobby March 8-June 16. For hours, visit https://www.library.vanderbilt.edu/hours.php.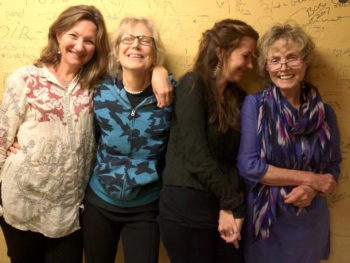 Berg, who was born in Nashville, was only 18 years old when she had her first number one hit, "Faking Love," co-written with Bobby Braddock. She also co-wrote "Strawberry Wine," which was recorded by Deanna Carter and is widely considered a signature song for both of them. Berg's songwriting collaborators include her husband, Jeff Hanna, founder of the Nitty Gritty Dirt Band. Among those who have recorded her songs are Trisha Yearwood, Kenny Chesney and Linda Ronstadt. Berg has released seven albums and received the Poet's Award from the Academy of Country Music in 2018. She is one of only a handful of women to be inducted into the Nashville Songwriters Hall of Fame. Three of her songs have been nominated for Grammy Awards.
Smith's early fiction writing was heavily influenced by her childhood in Grundy, Virginia, an Appalachian coal-mining town. She earned her bachelor's degree from Hollins College, publishing her first novel, The Last Day the Dogbushes Bloomed, in 1968. Smith has received numerous major writing awards, including the Sidney Lanier Prize for Southern Literature, the Academy Award in Fiction from the American Academy of Arts and Letters and the Robert Penn Warren Award. She recently co-edited Mothers and Strangers, a collection of Southern writers' essays about their mothers. On April 12, Parnassus Books will host an event at 6:30 p.m. featuring Smith, Chapman, McCorkle and Smith's husband, Hal Crowther, all of whom contributed essays to Mothers and Strangers.
McCorkle grew up in Lumberton, North Carolina, and earned a bachelor of arts at the University of North Carolina, Chapel Hill, where she studied under Smith. She also earned a master of arts in writing from Hollins College. She is the author of six novels and four short story collections. Her novels include Life After Life, Tending to Virginia and Carolina Moon, and her story collections include Crash Diet and Going Away Shoes. McCorkle has taught at Harvard, Brandeis and North Carolina State universities.  She is a member of the core faculty in the Bennington College Writing Seminars and frequently teaches in the Sewanee Writers Program. She has a new novel coming out next year.
This Belcourt performance benefits the Friends of Vanderbilt's Libraries, an organization that generates awareness of the library, raises funds and offers a place for alumni, community, staff and students to forge personal connections through programming, projects and events. For more information on this performance and membership in the Friends group, please contact Nancy Dwyer.