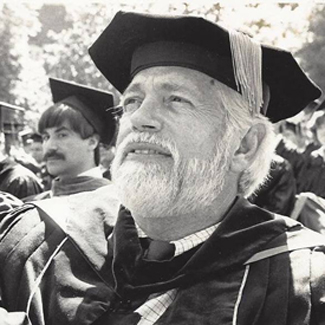 C. Elton Hinshaw, an emeritus professor of economics at Vanderbilt University, died Feb. 24 in Nashville. He was 82.
A native of Texarkana, Arkansas, Hinshaw earned his undergraduate degree at Baylor University before enrolling in Vanderbilt's Ph.D. program in economics as a Southern Fellowship fellow. Upon receiving his doctorate, he taught for a few years at Louisiana College before joining the Vanderbilt faculty in 1966, where he remained until his retirement in 2001, with the exception of a two-year academic leave spent in Rio de Janeiro from 1967 to 1969.
Hinshaw's most significant research contribution was Forecasting and Recognizing Business Cycle Turning Points, a 1968 National Bureau of Economic Research monograph he co-authored with Rendigs Fels. His signature contribution to higher education was his dedicated service to Vanderbilt and the economics profession, starting with the four years (from 1970 to 1974) he served as associate dean of the College of Arts and Science, responsible for college finances and physical space.
"He was an invaluable adviser to many of his junior colleagues as well as his students," said John Siegfried, professor of economics, emeritus. "Elton's patience and good humor were legendary. He was the epitome of calm no matter what the circumstances, and he was deft in helping others work through problems by quietly asking them questions until they eventually solved the problem themselves."
Read Siegfried's remembrance of Hinshaw on the Department of Economics website. >>
During the 1970s and 1980s, Hinshaw served in various capacities on the Arts and Science Faculty Council, chairing the council twice and serving on university committees on administration, the student judicial system, student-faculty relations, the curriculum, constitutional amendments, and education programs, among others. He served multiple terms on the Faculty Senate, was the senate secretary and a member of its Executive Committee. He served on senate committees on athletics, business affairs, human relations, and public exercises, and was the university marshal for Commencement.
In recognition of his dedicated service, in 1989 Hinshaw was awarded the Thomas Jefferson Award "for distinguished service to Vanderbilt through extraordinary contributions as a member of the faculty in the councils and government of the university."
In addition to his teaching, he alternated as secretary or treasurer of the American Economics Association for more than 25 years.
Hinshaw is survived by his beloved wife of 62 years, Jane; his children, Stephen Simpson Hinshaw, Becky Hinshaw Eagleton and Carroll Hinshaw Dale Nail; and his grandchildren, Raleigh Anne Dale, Norma Jane Eagleton, Carroll Alexandria Dale, Lily Ellen Eagleton and Sam Eagleton.
Hinshaw's family plans to celebrate his life with a private service at Immanuel Baptist Church, his home church since 1958, where he served as a director. Contributions in his name can be made to the campaign to restore the windows of the church sanctuary.