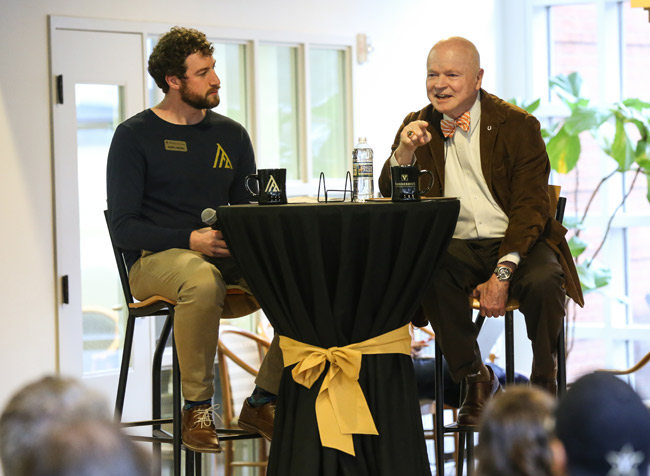 The Cal Turner Family Foundation has announced a gift of $2 million to expand the mission and impact of the Turner Family Center for Social Ventures at Vanderbilt University.
In 2015 the foundation established the Turner Family Center as a student-driven, interdisciplinary organization focused on developing entrepreneurial, market-based solutions to alleviate poverty around the world. The center is housed within the Owen Graduate School of Management, but serves undergraduates, graduate students and faculty members from multiple schools across Vanderbilt.
"The Turner Family Center for Social Ventures brings together talented individuals from every corner of the university seeking creative solutions to help lift people out of poverty around the world," said Susan R. Wente, provost and vice chancellor for academic affairs. "Vanderbilt welcomes the Turner family's continued generous support of the center to help sustain important programs like Project Pyramid—which combines classroom learning with global immersion experiences—and student participation in the internationally renowned Hult Prize."
The new $2 million commitment is aimed at expanding the Turner Family Center's Social Enterprise Consulting services and Fellows program, both of which place graduate students with partner organizations to gain real-world experience in social ventures. Another new area of focus will be identifying and implementing processes to measure social impact.
"These Owen students seem to be kids to someone my age," Turner said. "Yet my time with them convinces me that amazing, much-needed future leadership for the world is now being formed in their creative lives."
Mario Avila, MBA'12, director of the Turner Family Center for Social Ventures, said during the last academic year more than 400 undergraduate and graduate students representing schools including Law, Peabody, Nursing, Medicine and Owen participated in its events.
"It's gratifying to see that the Turner Family Center is having an impact on so many parts of the university," Avila said. "We continue to see a surge of interest in—and dedication to—serving those in need through market-based solutions. The Cal Turner Family Foundation is a true partner in helping the center augment and expand its work."
Avila also notes that the Turner Family Center's past support of student work continues to bear fruit. A startup called Leaf that helps global refugees access their assets using blockchain technology, founded by Nat Robinson, MBA'07, JD'18, and Tori Samples, BMUS'12, MBA'18, was initially funded by a grant from the Turner Family Center. The company has since gone on to win a $15,000 student pitch competition from LaunchTN and won the Best Bootstrap Award at last year's South by Southwest (SXSW) Conference in Austin, Texas.
"The Turner Family Foundation's steadfast commitment to deepening our knowledge of moral leadership is truly impressive," said M. Eric Johnson, the Ralph Owen Dean of Vanderbilt's business school.
Turner, a 1962 Vanderbilt graduate, and former CEO, chairman and president of Dollar General Corporation, is committed to community development and theological education and actively supports other programs at Vanderbilt University, including the Cal Turner Program for Moral Leadership in the Professions.
For more information about the Turner Family Center for Social Ventures, go to www.turnerfamilycenter.com.