Media Inquiries
Latest Stories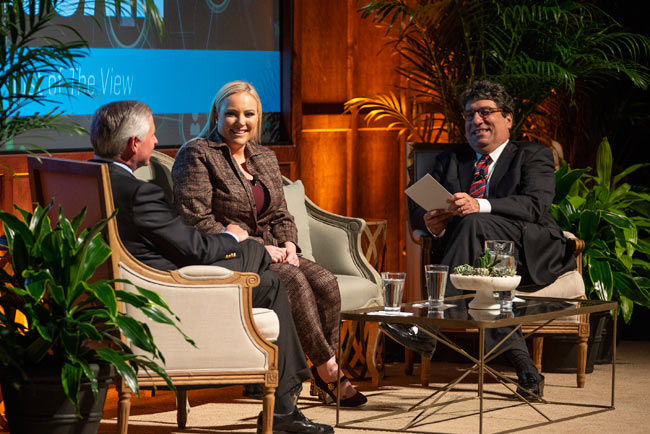 Meghan McCain, political analyst, best-selling author and The View co-host, said she loves visiting universities and talking to young people about politics because they're more curious and open than older generations.
Hundreds of them were in the audience to hear her Tuesday night at Vanderbilt University as part of the Chancellor's Lecture Series, hosted by Chancellor Nicholas S. Zeppos and Jon Meacham, who holds the Carolyn T. and Robert M. Rogers Chair in American Presidency and is a distinguished visiting professor of political science. Their lively, candid conversation covered millennials and political parties' need to reach them, the increased tribalism in public discourse, and, of course, McCain's respected father, whose 2008 campaign for president introduced her to the national stage.
Zeppos pointed out the late Sen. John McCain's fundamental decency, famously demonstrated when he corrected a woman at a rally after she said his opponent, then-candidate Barack Obama, was an Arab whom she did not trust. Zeppos cited that moment and asked, "When elected officials in Washington tell you that they admired your father, do you ever tell them to demonstrate his approach? Are there people who can step up and follow his lead?"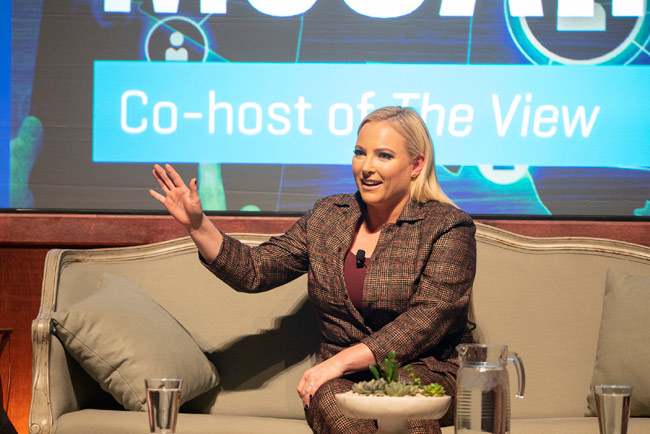 McCain said that moment at the rally was one of the last vestiges of civility in campaigning and agreed it was far too rare—perhaps gone forever.
"Many people were advising him to play up birtherism. He would never do it," she said. "I love him for so many reasons, but that's in the top 10. He said, 'If I don't become president, we still have this incredible life.'"
Meacham asked whether McCain would ever consider running for office herself. She replied with a blunt "no."
"Someone like me couldn't get elected," she said. "I'm just too honest. I could never play the game enough. That was my dad's problem sometimes, too."
Much of the discussion covered her powerful eulogy after the senator's Aug. 25, 2018, death. McCain said she never argued with her father until he asked for that eulogy, because she didn't want to discuss his glioblastoma diagnosis and ultimate mortality after he'd survived so much.
But she did write it, and the senator approved it before he died, she said. "He was very specific that he wanted his funeral to be healing to the country. I just hope I did him justice," she said.
The event was a reunion of sorts. Meacham was editor-in-chief of Newsweek when McCain was a 21-year-old intern. She was going to intern at Rolling Stone, she said, but her father called Meacham and asked if his daughter could go to Newsweek instead. Meacham hired her.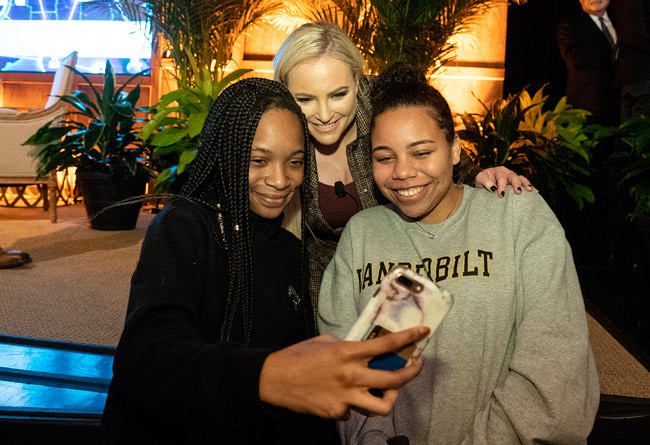 Meghan McCain's connection to young voters began after she launched a popular blog during her father's presidential campaign, solidifying her status as a public figure known for conservative values. The connection was apparent throughout Tuesday evening, but especially afterward when she instructed: "Everyone who wants a selfie, line up here!" About 100 people crowded the stage within seconds.
The Vanderbilt Chancellor's Lecture Series strives to connect the university and the Nashville community with leaders and visionaries who are shaping our world. For more information about the series, visit the Chancellor's Lecture Series website, email cls@vanderbilt.edu, or follow @Nick_Zeppos on Twitter.