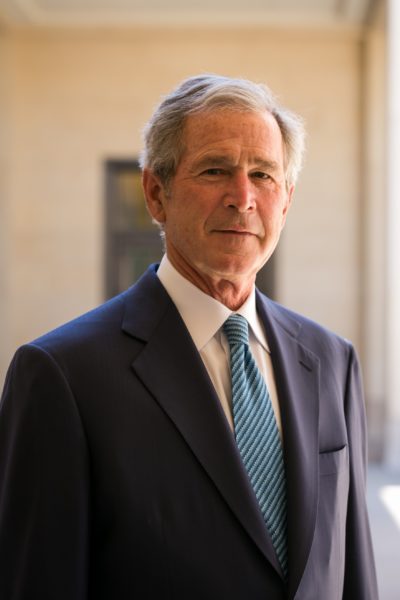 UPDATE 02/25/2019: The online form to enter into the randomized drawing for admission to this event will be live on the CLS website at noon today and open until noon Tuesday Feb. 26.
---
Vanderbilt University Chancellor Nicholas S. Zeppos will welcome the 43rd president of the United States, George W. Bush, for a conversation on Monday, March 11.
Along with Zeppos, Bush will be joined on stage by presidential historian Jon Meacham, the Carolyn T. and Robert M. Rogers Chair and Distinguished Visiting Professor of Political Science. Meacham wrote the biography of George H.W. Bush, the 41st president of the United States, and he and Bush each delivered eulogies to honor the late president at his memorial service in December.
The March 11 event, which is part of the ongoing Chancellor's Lecture Series for 2018-19, is scheduled from 6:30 to 7:30 p.m. in Langford Auditorium. It is the first of four remaining Chancellor's Lectures to take place throughout the spring semester.
Admission is free and will only be available to Vanderbilt University students, faculty and staff through a randomized drawing. To enter the drawing, participants must fill out an online form that will be posted on the CLS website from noon Monday, Feb. 25, to noon Tuesday, Feb. 26.
Names will be selected at random and admission will be offered via email on Friday, March 1. Those selected for admission must accept or decline the offer by noon Monday, March 4, or the offer will be forfeited and redistributed. Admission is non-transferrable and will be granted via Vanderbilt I.D. on the day of the event.
Bush grew up in Midland, Texas, as the eldest son of Barbara and George H.W. Bush. He received a bachelor's degree in history from Yale University and a master's degree in business administration from Harvard Business School. Following business school, he returned to Midland and met Laura Welch, whom he married in 1977. After working in the energy business for several years, Bush moved to Dallas and joined a group of partners that purchased the Texas Rangers baseball franchise. In 1995, he was sworn in as the 46th governor of Texas.
Bush served as 43rd president of the United States from 2001 to 2009. He entered office with a domestic agenda that included the No Child Left Behind Act, tax cuts for all federal income taxpayers and a plan to modernize Medicare. The Bush administration also focused on a variety of environmental issues, including efforts to reduce emissions and create the world's largest marine protected area.
Following the terrorist attacks on Sept. 11, 2001, Bush responded with a comprehensive strategy that included building global coalitions designed to contain terrorist groups and lead military invasions in Afghanistan in 2001 and Iraq in 2003, and established the Department of Homeland Security in 2002.
After his presidency, President and Mrs. Bush founded the George W. Bush Presidential Center in Dallas. The Bush Center is home to the George W. Bush Presidential Library and Museum and the George W. Bush Institute, a nonpartisan public policy and leadership development center that engages communities across the United States and around the world by developing leaders, advancing policy, and taking action to solve today's most pressing challenges.
Doors for the March 11 event will open at 5 p.m., and all guests must be seated by 6:15 p.m. No bags or purses larger than 8.5 inches by 11 inches will be allowed inside Langford Auditorium. Backpacks, briefcases, large umbrellas and other oversized items are prohibited and will not be permitted. All attendees entering the facility will be subject to a security check by wand.
The Vanderbilt Chancellor's Lecture Series strives to connect the university and the Nashville community with leaders and visionaries who are shaping our world. For more information about the series, visit the Chancellor's Lecture Series website, email cls@vanderbilt.edu, or follow @Nick_Zeppos on Twitter.