Pro Performance: New commissioning project gives Blair composition students a taste of professional life
by
Jim Patterson
Feb. 19, 2019, 10:51 AM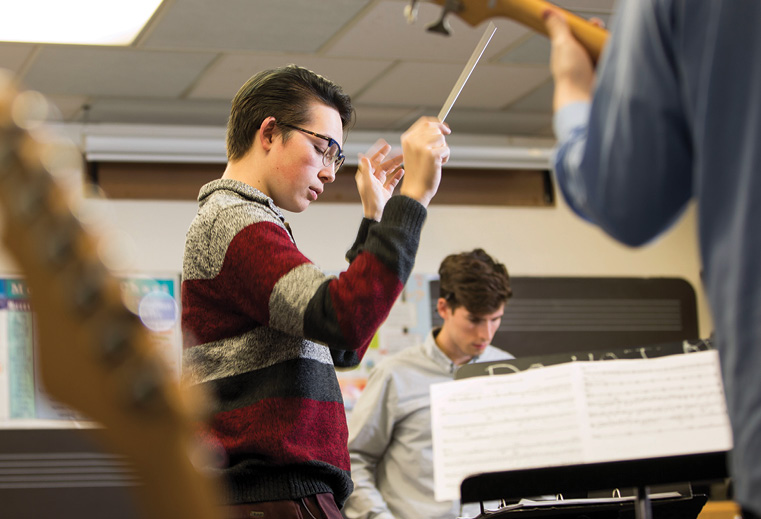 The composer Michael Slayton can't remember the first time an ensemble performed one of his pieces. That's perhaps not surprising, since Slayton's works, especially his chamber music, are now frequently commissioned and performed the world over. But Slayton is certain of one thing: His music was never performed professionally during his undergraduate years.
"In those days, it was rare for undergraduate composers to be given the opportunity to compose for a professional ensemble," says Slayton, associate professor of composition and theory and chair of the Blair School of Music composition department. "I don't believe I had a true professional performance until I was in graduate school."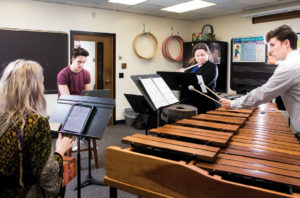 Thanks to a new commissioning project—which also provides an immersion experience, now a graduation requirement for incoming students—a few of Blair's enterprising undergraduate composers will make their professional debuts this spring. Their commissions come from the Nashville-based alt-classical group chatterbird, which has served as ensemble-in-residence at Blair since the 2017–18 academic year. Four of the school's undergraduate composers have received commissions to write new chamber works for chatterbird's musicians. Those works will receive their professional world-premiere performances at chatterbird's spring concert in April.
Celine Thackston, chatterbird's flutist and artistic director, says the commissioning project will provide Blair composers with valuable lessons in musical entrepreneurship, a topic not always encountered in music conservatories.
"Undergraduate composers typically learn how to compose, arrange and orchestrate, but they don't always learn how to get work," Thackston says. "The new project helps them with practical things, like how to collaborate with performers, how to prepare their parts, and how to introduce their new works to audiences."
Chatterbird has been introducing new works to enthusiastic audiences in Nashville for more than four years. Since its debut, the group has successfully bridged the worlds of classical music and indie rock, embracing the sound of the electric guitar while performing in night clubs instead of concert halls. Above all, the group has championed the music of Nashville's most daring contemporary composers.
One of those composers was Slayton, whose The Birth of the World for flute, violin and clarinet was on chatterbird's debut program at Blair's Turner Hall last year. With Slayton's support, chatterbird soon became one of Blair's ensembles-in-residence, and Thackston offered a series of workshops to Blair's composing students on such topics as how to start an ensemble and how to program new music. The commissioning project flowed naturally from this early, successful experience.
The new project's four undergraduate composers—juniors Nick Heilborn and Matthew Shorten, and seniors Christopher Bell and Annalyse Clark—are already working in chatterbird's adventurous mold, incorporating such unconventional instruments as the electric guitar and automobile brake drum into their works.
"Our students are learning how to meet deadlines and how to work with performers," says Slayton. "They're learning how to become professionals."
—John Pitcher