By Mitch Light, BA'93
Tim Corbin was asked the question countless times during the final week of October: Who do you want to win the World Series?
Under normal circumstances the answer would have been obvious for Vanderbilt's head baseball coach. A New Hampshire native, Corbin has always been a Boston Red Sox fan. Add to the equation that David Price, '09, one of the best (and most famous) pitchers ever to wear a Commodore baseball uniform, was a key member of the Red Sox starting rotation, and there should have been no doubt about Corbin's rooting interests.
But these weren't normal circumstances. Boston's opponent, the Los Angeles Dodgers, also featured a former Vanderbilt star, righthander Walker Buehler, '16. A first-round pick in the 2015 draft, Buehler enjoyed a breakout rookie year and emerged as one of the top pitchers in baseball late in the 2018 season.
So which was it, Coach: the veteran Price and your beloved Red Sox, or the upstart Buehler and the Dodgers?
"I just root for the kids," Corbin says diplomatically in his office a few weeks after the World Series concluded with a Red Sox victory. "That's my go-to. I just want them to do well. Whether their team wins is uncontrollable. I just root for them."
Still, Corbin admits that he was glad to see Boston win the title.
"I think we got the best-case scenario," Corbin says. "I'd say that with Walker sitting here. He knows how I feel about him. But I'm going for the older guy. Realistically, David had the shorter window [to win a World Series], so I'm glad he had the opportunity to get this far and finish it off."
The Red Sox victory was especially rewarding for Price, who flipped the script after years of struggles in the postseason. Price was the winning pitcher in two of Boston's four victories—including the series-clinching Game 5—and he also pitched in relief in Game 3.
"My confidence was never altered through however many seasons I've been to the playoffs, however many times I've failed in October," Price said to the national media after Game 5. "I always had belief in myself."
Buehler was arguably the most effective pitcher of the entire 2018 postseason. In four starts, the Kentucky native allowed only 16 hits and struck out 29 batters in 23.2 innings. He delivered a magnificent effort in his only World Series start, giving up two hits in seven shutout innings in a game the Dodgers eventually won in 18 innings. Four days earlier, he'd earned the win in the decisive Game 7 of the National League Championship Series.
Buehler's October heroics did not come as a surprise to his former pitching coach at Vanderbilt.
"To pitch at a high level in this game, you have to have almost a borderline arrogance out there," says Scott Brown, who joined Corbin's coaching staff when Buehler was a freshman in the fall of 2012. "And he exhibits that in everything he does. He's a really confident guy who isn't going to back down."
PITCHING POWERHOUSE
Last year 13 former Commodores played in the big leagues. Among them was Tony Kemp, BA'14, the Houston Astros outfielder who dominated highlight reels for a week after making a seemingly impossible leaping catch in the American League Championship Series against Boston. But in particular what Vanderbilt has become known for is producing aces on the mound: Of those 13 players in the major leagues, eight were pitchers.
"If you look at the common ingredient, they're all really good pitchers," says Brown, "but our program has helped shape them, their work ethic, their character, some of the mental stuff that has led to their success on the field."
And if recent history is any indication, several current Vanderbilt pitchers will be in the major leagues in the not-too-distant future.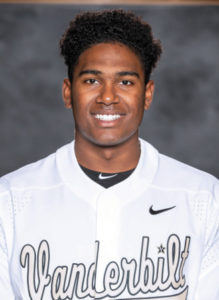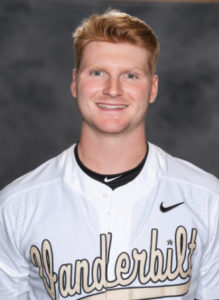 Junior Drake Fellows, who broke into the weekend rotation as a first-year student-athlete, is the leading candidate to claim the prestigious role as the Friday night starter for the second straight season.
"That's special," Fellows says. "Following guys like David Price, Carson Fulmer, '16, Tyler Beede, '15, all of those guys—that's special. Being a Friday night pitcher in the SEC means your coaches have a lot of confidence in you." Fellows is a recipient of the Herb and Betty Barrett Athletics Scholarship and the Harold W. "Cotton" Clark Scholarship.
Fellows might be the most proven commodity on the current roster, but there's no doubt that freshman Kumar Rocker is the pitcher with the greatest long-term potential. The top high school prospect to enroll in college (and not sign with a major league team), Rocker dominated at times during fall ball. He struck out eight straight Oklahoma State batters in one remarkable three-inning outing.
"He's a driven kid," Corbin says. "He's on point. I see someone who's passionate about what he's doing. He doesn't act like a freshman. I'm pleased with his maturity." Rocker is the recipient of the John C. Rich Baseball Memorial Scholarship.
With Fellows, Rocker and a host of other talented pitchers on the roster, Vanderbilt enters the 2018 season as one of the favorites to reach the College World Series.
And who knows, maybe in five or six years, Corbin will be watching Fellows and Rocker compete against each other in the other World Series.
---
Mitch Light is managing editor at Athlon Sports in Nashville.
---