By Elizabeth Cook Jenkins, BS'99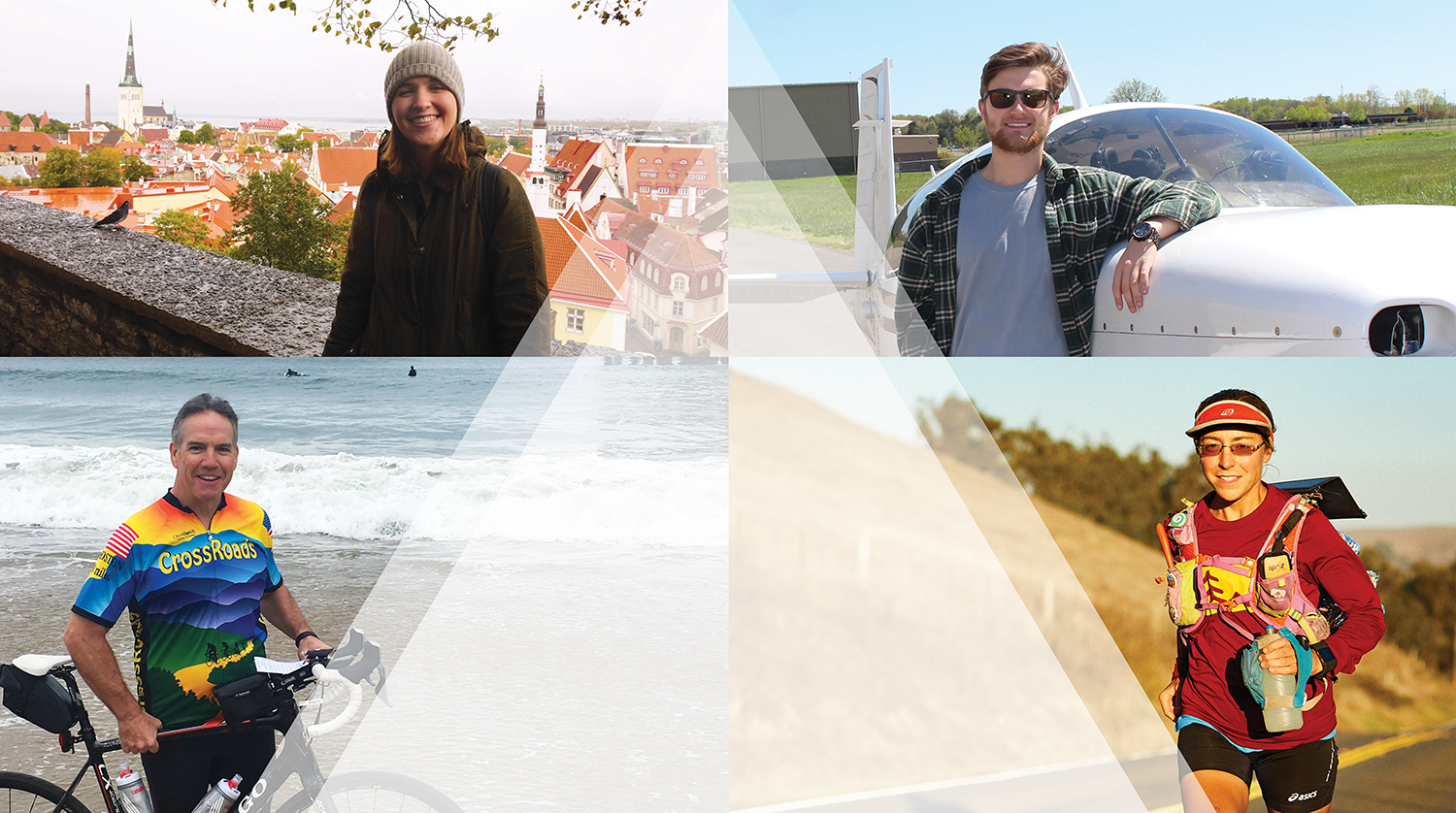 Vanderbilt students and alumni have always been an ambitious group. But three graduates and one current student have taken their passions to extreme levels—visiting every country on the planet, flying solo around the world, biking across the country, and walking the length of California. Some of them broke records while doing so. Others raised thousands of dollars for charity. But all four came away with the same advice: Follow your passions. Vanderbilt Magazine spoke to these four members of the Commodores community about their adventures. Here are their stories.
Taylor Demonbreun, BA'17
During the spring semester of her junior year, Taylor Demonbreun studied abroad in London. While there the Tuscaloosa, Alabama, native visited 20 countries, which sparked her desire to see more of the world. However, she already had a summer internship lined up on Wall Street, so she returned to the U.S. and headed to Manhattan. "It was a great experience," Demonbreun says of that internship, "but I learned that investment banking was not what I wanted to do."
As a senior majoring in economics and public policy, she spent her spare time figuring out how she could resume traveling after graduation. She discovered through diligent Google searching that she could attempt to set three Guinness World Records: as the youngest person, fastest person and fastest female to travel to all 195 sovereign countries.
Demonbreun began her quest in June 2017, a few weeks after graduation, heading to the Dominican Republic on a trip funded by her savings and money she had raised through her "TrekWithTaylor" GoFundMe page. The Guinness rules stipulate that one must travel at least every two weeks to qualify for the records, so for the next 18 months, Demonbreun returned home just long enough to catch her breath, see her family, and plan her next trip.
She completed her journey Dec. 7, 2018, visiting all 195 countries—including North Korea (in its demilitarized zone) and Syria—and setting all three Guinness records. She saved Canada for last so her family could meet her in Toronto to celebrate.
"Thanks to Vandy, I didn't have any student loans, so this trip is sort of like my student loan," says Demonbreun, who received the Harold Stirling Vanderbilt Honor Scholarship. "But it's so worth it. I have had an amazing experience."
Bruce Green, BA'86
Nashvillian Bruce Green has been bicycling for 20 years and had always wanted to ride his bike from coast to coast. "Doing so had been a bucket-list item of mine for many, many years," Green says. Eventually, he came to realize he could make his dream bike ride and also turn it into a fundraiser in honor of his father.
"When I am out on a bicycle, I do a lot of thinking," Green says. "My dad died in July 2016, and I think about him a lot when I am riding."
Green's father, Dr. Neil E. Green, practiced medicine at Vanderbilt University Medical Center for nearly 40 years. He was professor of orthopaedic surgery and rehabilitation, emeritus, and the former director and chief of the Division of Pediatric Orthopaedics at Monroe Carell Jr. Children's Hospital at Vanderbilt. In honor of his father, who had dedicated his life to healing at Vanderbilt, Bruce's cross-country ride raised money for Children's Hospital.
Bruce began by researching bike tour companies and accommodation options. "I wanted a bed, air conditioning, a toilet and a shower," says Green, so he ruled out camping. He chose CrossRoads Cycling Adventures, committed to starting his ride on Mother's Day 2018, launched his blog—Bruce Bikes the USA—and began publicizing his plans on Facebook. In three months he had raised nearly $60,000.
The trip began in Manhattan Beach, California, and ended 48 days and 3,500 miles later in Boston. "You dip your rear tire in the Pacific and then dip your front tire in the Atlantic," explains Green of the sacred ritual of cross-country cyclists. Along the way, Green and his 22 fellow cyclists battled high-desert heat in California, humidity and rolling hills in the Midwest, and torrential rain in New England. "There were a lot of challenges, but you can't let the day-to-day struggles get you down," Green says. "Keep your head up and stay focused."
Logan Tinley, Class of 2021
Sophomore Logan Tinley was introduced to flying at a very young age. His paternal grandfather flew and even built his own planes. "I started taking lessons when I was 17 and went to him for tips," the engineering science major recalls. By 18, as a first-year student at Vanderbilt, Tinley had earned his pilot's license.
Around the same time that Tinley became a licensed pilot, close family friends of the Tinleys learned that their son, Ethan, a second-grader, had been diagnosed with a brain tumor. Logan wanted to help, but he wasn't sure how. Then he remembered reading about people who had set records flying solo around the world and realized that, at 19, he could become the youngest American to do so—and raise money for pediatric cancer research at the same time.
Near the end of his freshman year, Tinley flew his Mooney Ovation single-engine piston aircraft from Tennessee to New Jersey to have an auxiliary fuel container installed. This modification would enable him to travel 2,000 miles in a single flight. Meanwhile, with the help of his parents, who live in Fort Worth, Texas, Tinley established the Ascending Frontiers Pediatric Cancer Association (ascendingfrontiers.org) to raise money and awareness for the fight against pediatric cancer.
In June, Tinley took off from the same private airport in Fort Worth where he had learned to fly. His first stops included Canada, Greenland, Iceland, Scotland and France. After that, he landed in Italy, Greece, Egypt, Bahrain and Abu Dhabi. By this point the trip was just getting started. In total, Tinley flew roughly 20,000 miles in 30 days, raising more than $97,000 as he went. He set the record as youngest American—and second youngest among all nationalities—to fly solo around the world.
"Do something you like to do that will help other people," Tinley says, noting that young Ethan has finished his final round of chemotherapy and is doing well. "It's easier than you think."
Natalie Larson, BS'12
As an undergraduate at Grinnell College in her native Iowa, Natalie Larson answered the call of her religious faith and, with hopes of becoming a nun, joined a Michigan monastery. That path ended in disappointment, so she re-enrolled at Grinnell. When she headed home to Iowa for the summer, her aunt suggested she run a marathon. "She gave me some race-ready shorts and told me about a training plan online," Larson recalls. "I followed the beginner plan for the next 16 weeks."
Larson became "race-ready," and then some. She ran her first marathon—and then nine more.
Meanwhile, Larson graduated from Grinnell, studied philosophy at Miami University (Ohio), and then moved to Nashville, where she did everything from modeling for acclaimed sculptor Alan LeQuire, BA'78, to teaching SAT and GRE prep courses. In 2009 she enrolled at Vanderbilt to earn a second bachelor's degree, graduating in just three years with a double major in math and computer science.
From there she earned a master's degree in computer science from the University of California, San Diego, and became a SMART Scholar (Science, Mathematics and Research for Transformation), a program run by the U.S. Department of Defense. "For every year they pay for your education, you owe a year to the DoD," Larson explains. Because it took two years to get her security clearance, Larson interned with the U.S. Navy in Norco, California, and did a residency at the Vermont Studio Center in Johnson, Vermont.
All this time, she continued running. During one eight-week period, she competed in six 100-mile races. Then an injury led Larson's doctors to discover that precancerous cells in her cervix, which they had been monitoring, had worsened. Opting for exercise over surgery, she became determined to set the fastest known time walking the 1,171-mile California Coastal Trail—which spans the length of the state, from Mexico to Oregon—alone. Forty-four days later, she did just that and, miraculously, beat cancer as she walked.
"The whole thing felt really spiritual," Larson says. "Just being close to the natural world was so awe-inspiring."
---
Elizabeth Cook Jenkins, BS'99, is a freelance writer based in Los Angeles.
---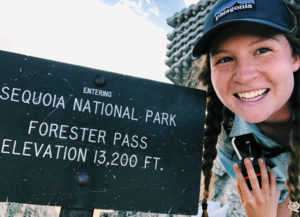 BONUS OVERACHIEVER!
Vivian Saxon, BA'18, spent 138 days in May through October walking the 2,652-mile Pacific Crest Trail—from Campo, California, to Manning Park, British Columbia, Canada. "You're capable of far more than you think you are," Saxon says. "And there's nothing more fulfilling than pushing your limits, making sacrifices, being uncomfortable, and learning from new experiences."
---