Media Inquiries
Latest Stories
By Jennifer Plant Johnston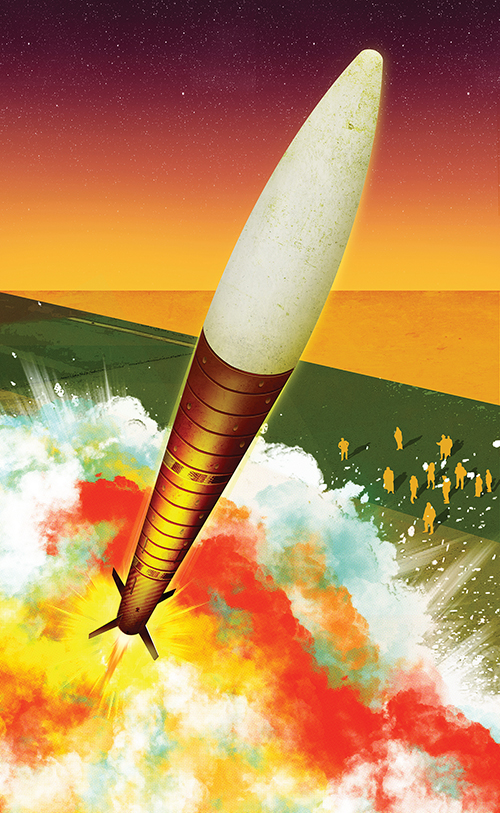 Commodores, we have a problem.
As a team of Vanderbilt student engineers worked through designs for the 2017 NASA Student Launch Competition, something went wrong: Their rocket weighed 4 pounds too much after incorporating an onboard payload.
Like the scene in the movie Apollo 13 in which engineers scrambled to fit round carbon-dioxide scrubbers into square holes, Amrutur "A.V." Anilkumar, adviser to Vanderbilt's championship rocket team, told the group they'd have to sacrifice the onboard experiment or find a way to cut the weight. Then he left the room.
"Professor Anilkumar gives you feedback, but he doesn't tell you what to do," says Arthur Binstein, BE'17, who is now working toward his master's degree in aeronautics and astronautics at Stanford University.
The approach clearly works. During the past 11 years, NASA has awarded the Vanderbilt rocket team eight payload design awards and five national championships. The team has won a total of 30 national and international awards and 16 regional awards. In addition, the Vanderbilt Aerospace Design Lab, which Anilkumar directs, has launched an impressive number of graduates into roles at companies such as SpaceX, Lockheed Martin, Boeing, Raytheon, Rolls Royce, NASA and Northrop.
That's not bad for a school that has no formal aerospace engineering program and an annual lab budget of less than $20,000.
Anilkumar says that each year the rocket team becomes a "mini NASA," as students collaborate to find solutions to technical challenges. Just as in the real world of aerospace engineering, the NASA launch competition rewards rocket designs for their innovation, as well as for high levels of safety and reliability.
This competitive element of the NASA challenges helps spur students to rely on bottom-up, systems-level thinking, says Anilkumar, who received the Chancellor's Cup in 2017 for significant faculty contributions outside the classroom. "It's about where do I take this concept into possibilities and solutions," he adds. "There will be setbacks. But failure is not an option."
Universities, and especially engineering schools, must find ways to remain relevant in a world driven by visionary companies such as Elon Musk's SpaceX and Jeff Bezos' Blue Origin, says Anilkumar, professor of the practice of mechanical engineering and aerospace engineering.
Traditional engineers have been confined to narrow silos and didn't necessarily understand how their own role fit into the whole. Today, most technical projects take a team approach, starting from the ground up. Current students arrive with a strong desire to push innovation forward and make a difference in critical arenas such as space, health care, the environment and energy, Anilkumar says.
TEAM SPIRIT
Starting with nothing but a blank whiteboard and a rocket casing, students on Vanderbilt's rocket team begin thinking about the task ahead, figuring out a plan step by step. "As students get more into the solution process, they realize they have strengths they never imagined," says Anilkumar, who helps direct early technical discussions along with electronics technician Robin Midgett. "Initially, the students listen carefully. In the end, they dominate the conversation."
Each year, while NASA issues a new and increasingly more complex payload challenge, the team comes up with unique solutions. In 2018, in response to NASA's challenge to image ground targets, the team built a rocket with two sections: The steady forward payload section captured images of ground targets, while the bottom section compensated for the rocket's natural roll as it soared at 400 mph to a precise height.
While winning the coveted national championship prize is gratifying, being awarded the payload design prize is more professionally satisfying. "That clearly says this project has the most innovative and novel design," Anilkumar says.
Rockets in the 2019 challenge, set for April 6, must launch a small rover after landing that is capable of collecting soil samples. Another challenge is to launch a separate aerial vehicle from the rocket that can deliver a beacon to a specified target.
Anilkumar is extremely pleased with the progress on the current payload design. "It's a novel UAV [unmanned aerial vehicle] payload that involves collaborative flight suitable for space exploration," he says.
The team first builds a subscale rocket to demonstrate its capacity to operate a safe launch and recovery without the added complexity of the payload. The full-scale rocket, including the payload, flies once before the competition and a second time during the competition, when the full payload experiment is executed.
Rain or shine, the rocket must reach a height of 5,280 feet in under 16 seconds with a G-force of up to 15 on the frame.
Anilkumar's personal enthusiasm energizes the team, says Brandon Dimmig, BE'14, who led the rocket team his senior year. On launch day, when "boom, that final parachute goes off and everyone's jumping up and down, he's right there with us. He's every bit a member of the team as much as anyone else.
"He challenges you. That's part of what makes him so good. He pushes you each year to something better."
After working in the aerospace field for four years following graduation, first with aircraft carriers and later with wind tunnel models, Dimmig has returned to school full time to work toward an MBA at Washington University in St. Louis.
"One of the things that really got me wanting to do the leadership path is that I was president of the team," he says.
Each year Anilkumar personally selects a small team of 14–18 students—roughly 70 percent undergraduates and 30 percent graduate students—from a variety of engineering disciplines, including mechanical, electrical and computer science. While each has a role, they all are expected to understand how the entire system functions.
"To make good leaders, they need to see a problem from all sides, bottom up. Then, and only then, can they enthusiastically seek solutions and be the leaders that you want them to be," Anilkumar says.
Jennifer Frankland, BE'11, who now works on turbine technology as a product engineer at Siemens, says while she didn't have a background in rocketry like some of the other team members, Anilkumar knew her understanding of energy systems would be valuable.
"Working on this project prepared me for the rigor of graduate school research, and it was my first in-depth experience working as a member of a cross-functional technical team," Frankland says. "If I had to choose one project from my undergraduate experience that best prepared me for engineering in the 'real world,' this would be it."
Top student recruits are attracted to Vanderbilt in part by the opportunity to engage with the renowned rocket team. Several Cornelius Vanderbilt Scholarship recipients have accepted admission to Vanderbilt after meeting with Anilkumar, deciding to turn down admission to schools such as Stanford, Caltech, University of Pennsylvania, Cornell and Georgia Tech.
"Students walk in when they first get to Vanderbilt and say they want to be part of the team," Anilkumar says.
Rocket team members must present and support their ideas before the group in ways that absolutely translate to the real world.
"You have this amazing experience that someone who just goes to class doesn't have," Dimmig says. "You're doing interesting, novel research and you push yourself to do something that is significant, well-documented and well-analyzed."
Fellow teammates also become close friends, says Katie Hornbeck, BE'18, who began her career at ExxonMobil following graduation in May.
"Given our diverse experiences and interests, each member of VADL offers a different perspective and a different way to solve problems—and this is one of our greatest strengths," Hornbeck says. "Honestly, I think all 12 seniors on the design team sat in different parts of the classroom before we came together as a team. Some of us were extroverts, some were introverts, some were in the band, some played sports, some were involved with Greek life, others were tour guides, others were involved with research, but we each brought different experiences and skills to the team."
As former team members will attest, Anilkumar sets the bar high. "Don't underestimate the capability of undergraduate students to work on impressive, interesting, intensive projects," Anilkumar says. "And don't just take credit for giving them exams. Make sure they bind themselves to something useful."
'COSMIC COINCIDENCE'
Growing up in India with a father who was an aeronautical engineer, Anilkumar envisioned himself eventually becoming part of India's space program. After completing his undergraduate studies, he came to the U.S., where he earned his Ph.D. in mechanical engineering and aeronautics from Caltech.
He got interested in extreme engineering while working on his doctoral thesis on the high-speed dynamics of dense, dusty gases. In extreme engineering, "everything is happening fast"—experiments are a fraction of a second or less in duration. In his current academic pursuits at Vanderbilt, he translates those research concepts into action. "I'm taking the essence of that concept and looking at the rocket as a place to play that game."
He was packing his bags to return to India after completing his studies at Caltech when he got a call from former astronaut Taylor Wang to work with him on space shuttle experiments at the Jet Propulsion Laboratory in Pasadena, California. Anilkumar then followed Wang, now Centennial Professor of Mechanical Engineering, Emeritus, to Vanderbilt in 1988. As part of Vanderbilt's Center for Microgravity Research and Applications, they created experiments carried by the space shuttle and the International Space Station.
But around 2005, funding for the program began to dry up. Internet technologies took precedence over space and "brick and mortar" engineering.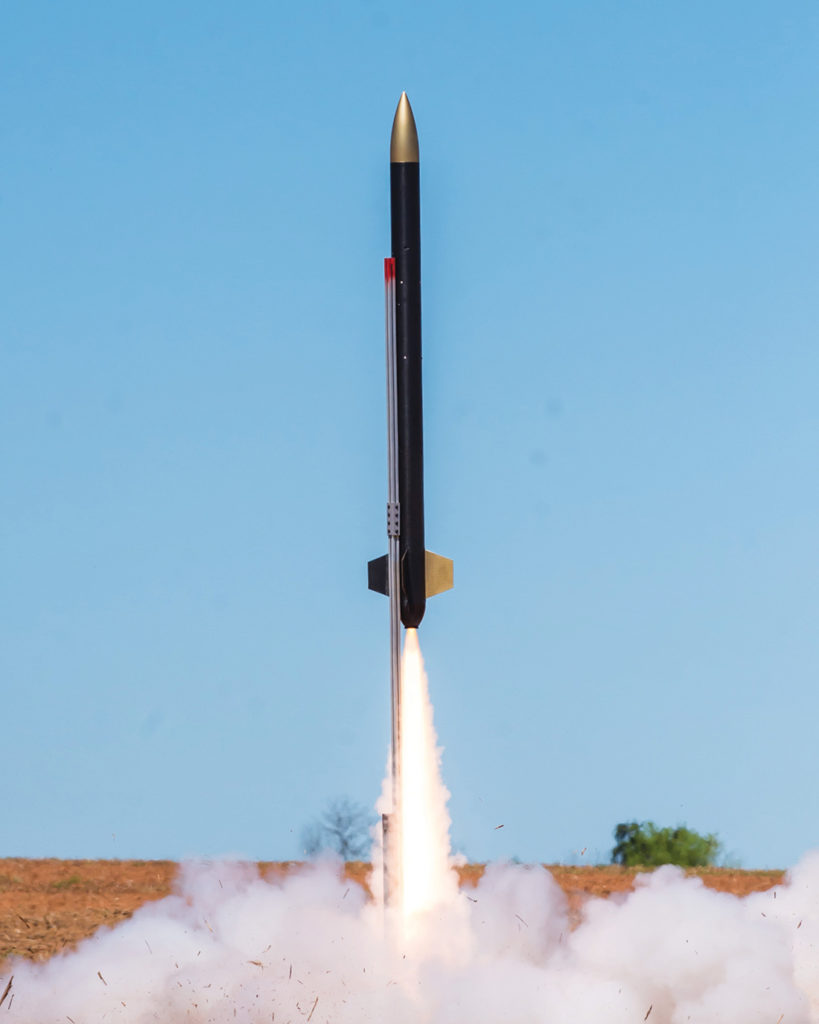 As a new, competitive framework began emerging, Anilkumar saw an opportunity to channel his research knowledge into student achievement through NASA's student rocket competition. He's never looked back.
"That is what I call a cosmic coincidence," he says. "Everything fit in well with the new, emerging Vanderbilt, and the student launch program is the showcase activity of renown in this context."
The demands of low atmospheric flight are difficult and challenging. "I was willing to take that on, and the students were willing to buy into that, and it paid off," he says. "The most important ingredient is the students.
"The main thing is, you cannot be an also-ran in this business and that is one of my basic philosophies. If you do it, you do it really well."
The team has nearly 24/7 access to lab space, equipment and needed resources, crucial elements for success, says Zach Smith, BE'12, who double-majored in mechanical engineering and mathematics.
Team members learn to be resilient, says Smith, now a repair engineer for Pratt & Whitney military engines.
"In aerospace, there is little margin for error in manufacturing or process control. I personally experienced the consequences of this on several occasions as a rocket team member when I watched months of hard work come crashing to the ground. If not for the resiliency of the team and the encouragement of Dr. Anilkumar and Robin Midgett, we might not have recovered to rebuild our rockets with the necessary improvements," Smith remembers.
So, how did the 2017 rocket launch team fare after discovering the weight-limit problem?
"We decided not to give up the experiment and spent the next three to four days trying to figure out any sliver of weight to cut out while still maintaining structural integrity," Binstein recalls. Some solutions were serious, some hilarious.
The team adjusted the design in the weeks that followed, but the compromise vehicle didn't reach the correct altitude, resulting in a rare second-place finish. However, the experiment worked beautifully, and the students won the coveted payload design award.
"We knew that we could do better after the competition. So, we made some changes and went out and relaunched it. NASA was not involved. We were inspired by Professor Anilkumar. He didn't tell us that we had to. But he kind of made us feel that we could do better and we all agreed with him.
"He's always in the back of your mind. You're going to have to justify your decisions to him," says Binstein, who spent the summer of 2018 as an intern at SpaceX, where a growing cohort of VADL graduates work.
Binstein says the most valuable lessons Anilkumar teaches involve how to think about problems. "He wants to get at the core of the science and how things work," says Binstein. "He doesn't just want you to build something that works. He also wants you to understand why it works."
---
Jennifer Plant Johnston is a Nashville-based freelance writer with more than 30 years of experience, many of them writing for Vanderbilt. A journalism graduate of the University of Tennessee and a former Associated Press reporter, the Oak Ridge, Tennessee, native was executive director of the Vanderbilt Center for Nashville Studies before retiring in 2016 to travel and write.
---
UPDATE: Vanderbilt's Aerospace Design Laboratory earned top honors in NASA's 2019 National Student Launch Competition. See how the rocket team claimed its sixth national championship in 12 years:
---
Vanderbilt Experiment Hops a Ride on SpaceX Rocket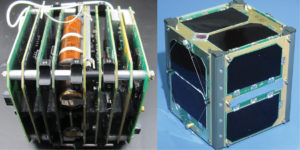 SpaceX's Falcon 9 rocket launched Monday, Dec. 3, from Vandenberg Air Force Base in California and delivered 64 small satellites into sun-synchronous low-Earth orbit, setting a U.S. record for the largest single rideshare mission. On board was a Vanderbilt radiation experiment designed by a team led by Brian Sierawski, research assistant professor of electrical engineering, and researchers in the Institute for Space and Defense Electronics.
The Vanderbilt researchers are modeling radiation exposure and testing key components for radiation sensitivity, which will help them design electronics systems for greater fault tolerance.
Specifically, they are making real-time measurements of radiation-induced failures called single-event upsets (SEUs) and conducting extensive computer simulations of the performance of the electronics using unique software developed at Vanderbilt during the past decade. This is the third experimental payload Vanderbilt researchers have launched in recent years.
—LIZ ENTMAN
---