Media Inquiries
Latest Stories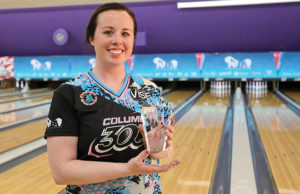 Josie Earnest Barnes, BS'10, was 3 years old when her parents bought a bowling center in Vandalia, Illinois. She bowled her first complete game that same year—a 62 without gutter bumpers, she's been told—and has been hooked on knocking down tenpins ever since.
A standout bowling career in high school led to her receiving the Nathan Craig Memorial Education Fund scholarship at Vanderbilt, where she was on the university's first-ever national championship team in 2007 and later became the first college bowler to be twice voted NCAA Player of the Year. After graduating in 2010 with a bachelor's in human and organizational development, Barnes accepted Head Bowling Coach John Williamson's offer to join his coaching staff.
Now the team's associate head coach, Barnes has played a key role in the Commodores' continued success. Last season, the team won its second NCAA championship—a title she cherishes perhaps even more than the one she helped win as a student-athlete because, as she puts it, "I now appreciate just how much it takes to raise that trophy."
Here Barnes offers tips to novice bowlers, rented shoes and all, on how to improve their scores.

1. Don't be a lightweight.
When choosing a ball off the rack (known as a "house ball"), don't select one that's too light. You won't be able to generate as much force with a lighter bowling ball, and it's probably not designed to fit an adult hand anyway. "The lighter balls have holes drilled to fit younger kids' fingers," Barnes explains. "The most important part when selecting a house ball is to make sure that you're able to insert your fingers completely into the holes." She suggests most women use a 12- or 13-pound ball, and most men one that's a pound or two heavier.
2. Get a grip.
Now that you have a ball picked out, make sure you know how to hold it. "A lot of people put their middle finger and index finger in the ball, but that's actually incorrect," she says. "You should put your middle finger, your ring finger and your thumb in the ball. Your index finger and pinkie should rest on the ball to help you control it."
3. Center yourself.
As you approach the lane, try to stand as close to the middle as possible, aligning yourself with the front pin. You may be tempted to stand to one side and try putting some spin on the ball, but you'll quickly find that a house ball has its limitations. "Most people don't realize that house balls aren't made to hook," Barnes says, explaining they lack the weighted cores of professional ones. "So the straighter, the better. Make sure your shoulders, your hips and your toes are pointed toward what you're trying to hit."
4. Take the right steps.
Once you're lined up, it's time to set things in motion. But it's important to start and stop on the correct foot. "When I'm working with someone new, I try to teach them the 'four-step approach,'" she says. "You start with whichever foot matches the hand that you bowl with, and as soon as you take that first step you should be moving the ball, as if your hand and foot were connected. Counting the four steps in your head, you should finish by sliding on the opposite foot of your bowling hand. Just make sure you don't slide past the foul line into the lane."
5. Let it roll and pat yourself on the back.
While you may be inclined to put some extra punch into your release, don't force it too much. It's the follow-through that counts. "You should let the ball just roll out of your hand," Barnes says. "It's more important that you follow through toward your target. A lot of people stop short with their arm directly in front of them, so I always tell my kids to act like they're patting themselves on the back."
---
TEXT BY SETH ROBERTSON
---