Elizabeth Lee "Betty" Klepper, BA'58, First in Soil Science
by
Jim Patterson
Feb. 19, 2019, 10:50 AM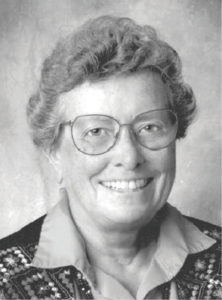 Elizabeth Lee "Betty" Klepper, a retired scientist at the U.S. Department of Agriculture Columbia Plateau Conservation Research Center in Pendleton, Oregon, died at her home Oct. 26, 2018. She was 82.
Born in Memphis, Klepper attended school in Tennessee and graduated summa cum laude in chemistry as Founder's Medalist for Vanderbilt's College of Arts and Science. After two years on a British Government Marshall Scholarship at Exeter University in Devonshire, England, she taught high school math and science for a year at the Hutchinson School in Memphis. She then returned to graduate school at Duke University to obtain her Ph.D. in botany.
Klepper held a postdoctoral position at the Commonwealth Scientific and Industrial Research Organization in Griffith, New South Wales, Australia, at the Division of Irrigation Research from 1966 to 1968. When she returned to the States, she taught and conducted research on plant root systems at Auburn University and studied the movement of minerals, especially radioactive ones, into and through plant tissues at the Battelle Northwest Laboratories.
In 1976 she took a position as a supervisory plant physiologist at the USDA Columbia Plateau Conservation Research Center to study effects of tillage, planting machinery design and crop residue management on cereal seedling vigor and crop water use. Working with colleagues in Pendleton and with many other scientists nationally and internationally, she helped develop new ways of evaluating plant development and stress and led a project that defined the patterns of shoot and root system development in wheat.
Klepper chaired the National Research Personnel Evaluation Committee for the Agricultural Research Service from 1991 to 1995 and served on the board of directors of the Agronomic Science Foundation from 1992 to 2000 and again from 2010 to 2013.
She co-authored more than 200 scientific publications and was research and location leader for the center from 1984 until her retirement in 1996. She was at the leading edge of women moving into agricultural research in the latter half of the 20th century and achieved several breakthroughs, including being the first woman in the U.S. to edit a major agricultural journal, Crop Science; the first woman elected as a fellow of the Soil Science Society of America (1985); and the first woman to serve as president of the Crop Science Society of America (1997).
After retiring she was active in the Pendleton community. She is best known for initiating the Stewards of the Umatilla River Environment, which worked to clean up the riverside in town and to educate local citizens about the plants, animals, rocks and history of the Umatilla River. Her contributions were recognized by Pendleton's First Citizen Award in 2004 and the White Rose Award in Portland in 2005.
She leaves two nieces, two nephews and many friends.