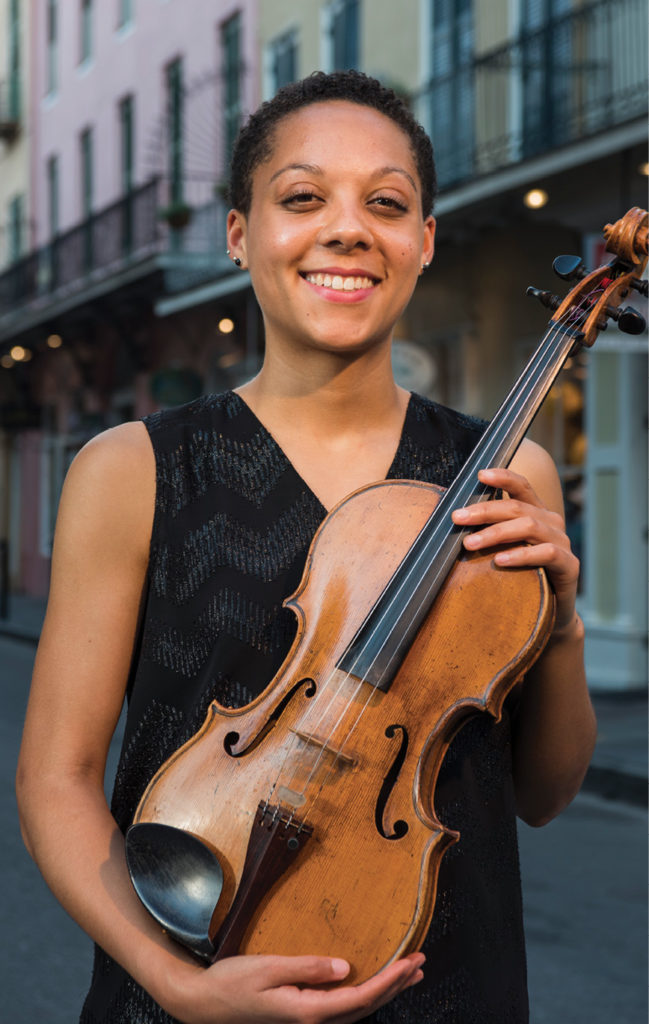 Being a student at the Blair School of Music kept Dana Kelley busy, but being a professional musician in New York City adds a whole new meaning to the word. Kelley is violist with the Argus Quartet, the Juilliard School's quartet-in-residence, which played on the Blair Concert Series last September. She also recently joined the Orpheus Chamber Orchestra and frequently subs with the Metropolitan Opera Orchestra.
"As a member of Argus, I rehearse about six days a week, five or six hours each day, and we are coached and mentored by the Juilliard Quartet," Kelley says. "I also freelance in New York on the side, so I might be in a rehearsal for Orpheus or another ensemble during the day, performing at night, or on tour with one of the groups." In addition to the chamber music groups with which she plays, Kelley has been a top prizewinner in the Sphinx Competition and the Irving M. Klein International String Competition.
For someone who came to Blair thinking of music as a hobby, Kelley has found her identity as a professional.
At Vanderbilt she was a student of Connie Heard, Valere Blair Potter Professor of Violin, and Kathryn Plummer, professor of viola. "I definitely came to Blair not knowing what I wanted to do," Kelley says. "But Professors Heard and Plummer inspired me to take music more seriously and find my own voice within the profession. They were and still are great influences who affected how I viewed music as part of my life."
While at Blair, Kelley participated in a master class with renowned violist Kim Kashkashian, with whom she later studied at the New England Conservatory while earning a master's in music.
"I used to think of music as something I had to execute," she says, "but Kashkashian opened up this new world of letting music be a part of who I am, and to really showcase that during performances."
In the professional music world where practicing, rehearsing and performing take up so many hours of the day, Kelley says she has learned to trust herself.
"Music is the hardest thing I have ever done, but also the most rewarding. Especially in New York, where there is a lot of competition, it's easy to forget why you're pursuing this craft," she says. "But if you're passionate about it and emanate that passion to those around you, you're more likely to find success and happiness."
—Molly Jewell