Commodore-in-Chief: Malcolm Turner brings an NBA executive's perspective to his new role as Vanderbilt's athletics director
Feb. 19, 2019, 10:50 AM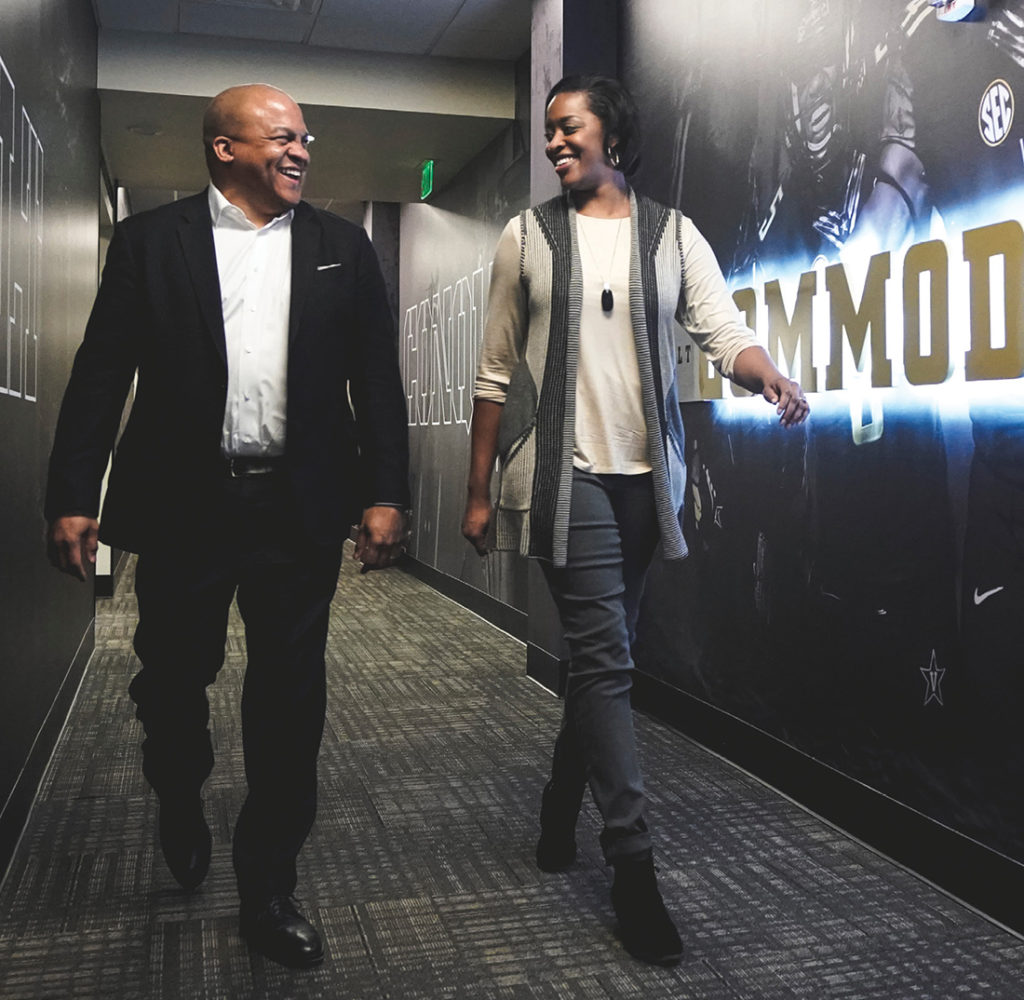 Malcolm Turner, a former member of the National Basketball Association's senior leadership team and president of the NBA G League, took the helm as Vanderbilt's next vice chancellor for athletics and university affairs and athletics director Feb. 1. He replaces David Williams, who announced plans in September to step down from that role and died unexpectedly Feb. 8.
"I set out to find a thought leader with the skill set and vision to manage the next stage of transformation for Vanderbilt athletics, and that's exactly what we found in Malcolm Turner," says Chancellor Nicholas S. Zeppos. "Malcolm is a proven executive with deep expertise in multiple business disciplines including management, marketing and development across the sports landscape of teams, leagues, facilities and major events. He also carries a deep and personal commitment to education, evidenced by his own academic achievements and his extensive community service."
Turner graduated from the University of North Carolina at Chapel Hill and went on to earn joint J.D./MBA degrees from Harvard University. As a student at UNC, he was a Rhodes Scholar finalist, Morehead-Cain Scholar, and recipient of the Ernest L. Mackie Chancellor's Award for character, scholarship and leadership.
Turner is also an accomplished community leader, having served on the advisory boards for Teach for America, the UNC Kenan-Flagler Business School, the UNC Board of Visitors, and the board of the Morehead-Cain Scholarship Fund.
"It's an honor and a privilege to follow in David Williams' footsteps—he's set a high bar for what a top-notch athletics program can accomplish and has built a foundation of success and excellence for the Commodores," Turner says. "Vanderbilt University and the city of Nashville are on the move, and I'm excited to be a part of that transformation and help position the Commodores and Vanderbilt's unique approach to developing student-athletes as a national and international model. I look forward to supporting and partnering with our student-athletes, coaches, facility managers, staff and the entire Commodores community to help attain and provide the resources for our teams to succeed."
Under Turner's leadership, the NBA G League enjoyed unprecedented growth across all areas of its business and basketball operations—from record numbers of NBA G League alumni in the NBA, to a first-of-its-kind expanded entitlement partnership with Gatorade, to innovative new player contract types. The NBA G League prepares players, coaches, referees, trainers and front-office staff for the NBA while also serving as the league's research and development laboratory to test experimental playing rules, new technologies and emerging partner initiatives for potential application by the NBA.
"Malcolm is an exceptionally talented executive and an all-around great person," says David Stern, NBA commissioner emeritus. "The NBA benefited tremendously from his leadership, acumen and collaborative mindset—he's one of a kind. … I have no doubt he will bring that same commitment to excellence and impact to Vanderbilt's athletics program."
Prior to joining the NBA, Turner worked at Wasserman Media Group, where he helped build the firm's preeminent Consulting Division as its managing director, creating and managing sports, entertainment, venue and new product launch strategies for leading corporate brands and properties. He went on to help build a multinational footprint for this practice before launching Wasserman's Golf Division as one of the leading golf management teams representing some of the game's top personalities and brands. Prior to Wasserman, he served as senior vice president and a member of the leadership team of OnSport, a North Carolina–based sports and entertainment consulting firm.
"Malcolm was a unique candidate and is a perfect fit for taking Vanderbilt athletics forward," says Vanderbilt Board of Trust member John R. Ingram, MBA'86, who served on the search committee and also chairs the board's Athletics Committee. "I'm excited to assist and support Malcolm as we write this next chapter in Commodores history."
—PRINCINE LEWIS
---