Claudia Spence Jack, JD'83, Public Defender
by
Jim Patterson
Feb. 19, 2019, 10:50 AM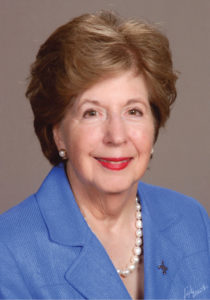 Claudia Spence Jack, public defender for Tennessee's 22nd Judicial District, died Nov. 9, 2018. She was 75.
A native of Columbia, Tennessee, she graduated from Auburn University in 1965 with a bachelor of science degree in English education, then earned her master's degree in education from Auburn the following year. She began her career in education as an eighth-grade teacher at Auburn Junior High School in Auburn, Alabama, before moving back to Columbia in 1966 to serve as the inaugural faculty member of the English department at Tennessee's first community college, Columbia State Community College. She served on the faculty until 1969.
At the age of 37, she was admitted to Vanderbilt Law School. She was an associate editor of Vanderbilt Law Review, a member of the Moot Court Board and of Phi Delta Phi legal fraternity. She clerked for Tennessee Supreme Court Justice William J. Harbison before practicing in the law offices of Billy C. Jack as an associate. She was assistant district attorney for Tennessee in the Division of Child Support and Welfare Fraud and then became a named partner at Jack and Jack from 1986 to 1998. In 1998 she was elected as district public defender for the 22nd Judicial District, serving Giles, Lawrence, Maury and Wayne counties in Tennessee, a position to which she was re-elected three times and was serving in at the time of her death. She was admitted to practice to the U.S. Court of Appeals, Sixth Circuit, the U.S. Middle District Court, the United States Tax Court, and the Supreme Court of Tennessee.
During her lifetime, Jack was involved in many professional, civic and social organizations and endeavors, constantly and consistently serving her community. She participated in Leadership Maury and Tennessee Leadership and was a member of the Maury County Kiwanis Club and Columbia Kiwanis Club, serving as an officer in both organizations at the local and state levels. She had been a member and officer in Columbia Business and Professional Women's Club since 1988. She served in a number of organizations dedicated to improving the experiences of children, including the Maury County Public Library, the James K. Polk Memorial Auxiliary, and the Guided Circle of King's Daughters. She was a member of St. Peter's Episcopal Church for nearly four decades.
She is survived by three children, including Robert Jack, BS'92; daughter-in-law Whitney Weeks, BA'94; four grandchildren and a brother. Her husband of 37 years, Billy Jack, JD'63, predeceased her.