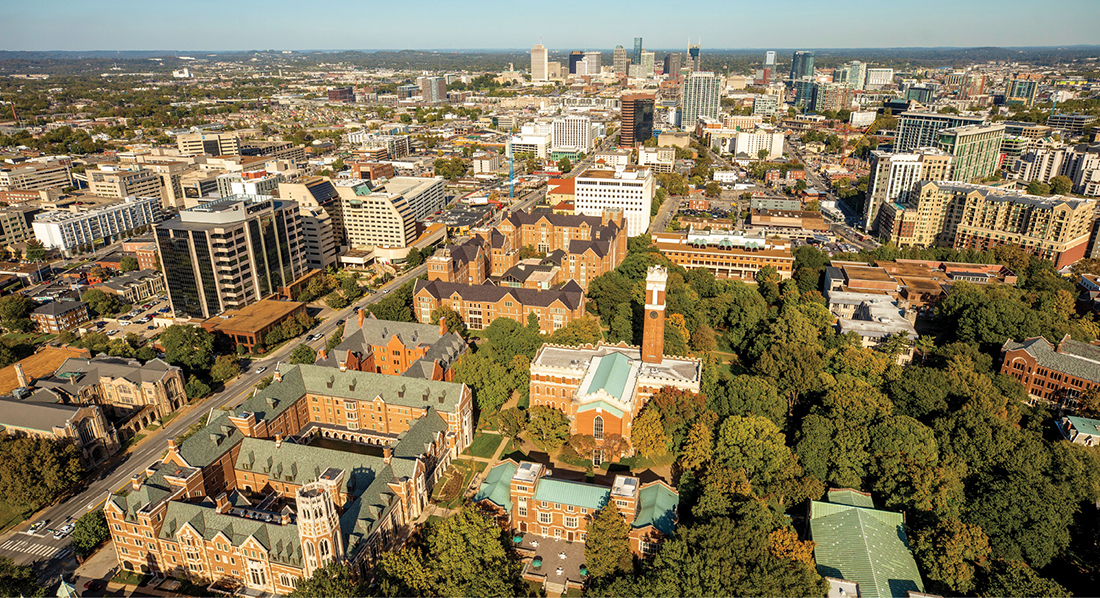 At Vanderbilt, there is no shortage of exploration. Every day our talented faculty, students and staff are driven to make discoveries—not just for the recognition, but for the chance to move the dial, to permeate the boundaries, to affect our society at large and for the better. Indeed, looking to the larger purpose is necessary to the work we do. How can real change come about if we're not thinking big, thinking differently, thinking abstractly?
The centuries-old tradition of education for the sake of enlightenment still rings true, but that resulting enlightenment cannot be secluded within an ivory tower. It must find its match in real-world application.
America's universities demonstrate that education and research are essential to solving humanity's greatest challenges and supporting a healthy, prosperous society. At Vanderbilt our students arrive on campus eager to contribute and, after graduation, go on to do just that, in ways public and private, large and small. For our faculty, staff and coaches, making a difference is part of the job. Commodores want to influence the course of things.
Consider 2017 Chancellor's Cup winner A.V. Anilkumar, whose rocket team—featured in this issue's cover story—has won a payload of honors in an annual NASA competition, among others. Under Professor Anilkumar's mentorship, engineering students practice teamwork, problem-solving and resilience. Many take what they learn to jobs at NASA and companies like SpaceX and Lockheed Martin. In a world that profoundly needs creative and persistent technical problem-solvers, the work of Professor Anilkumar and his team could not be more relevant.
For a moving look at students and faculty focusing their passion and personal experience to make a difference, read about Dave Caudel, a postdoctoral scholar working with Vanderbilt's Center for Autism and Innovation, which recently received a $10 million endowment gift from alumna Jennifer R. Frist, BS'93, and husband William R. "Billy" Frist. This new Frist Center, along with the Vanderbilt Kennedy Center and Susan Gray School (both of which are on the Peabody College campus), will advance Vanderbilt's leading exploration of neurodiversity—the myriad ways in which human brains develop and process information, especially among people along the autism spectrum. Besides investigating brain development, our researchers are inventing adaptive technology to enable more people with autism to lend their considerable gifts to employers hungry for their skills.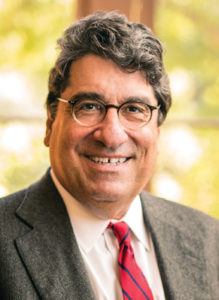 And you need not look to the frontiers of rocketry or the human brain to see how Vanderbilt is making a difference. Just take in a ball game. Thirteen former Commodores currently play in Major League Baseball, eight of them as pitchers. Coach Tim Corbin's influence was seen most recently in last fall's World Series, which featured standout Vanderbilt hurlers in both Red Sox and Dodgers uniforms.
Beyond the ball diamond, new Athletics Director Malcolm Turner is carrying on our practice of ensuring that our student-athletes are successful students above all, and promoting The Vanderbilt Way as a proven example of how college athletics can be done.
Spacecraft, fastballs, and the lives of people whose brains work differently: At Vanderbilt we're affecting the trajectories of all of them, plus a great deal more. If it's been some time since you've visited campus, I invite you to come see the countless ways Commodores are shaping the world we live in. I promise you, there's not an ivory tower in sight.
—NICHOLAS S. ZEPPOS, CHANCELLOR
@Nick_Zeppos
---