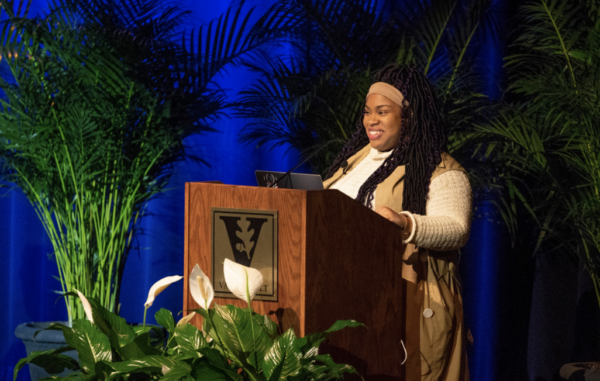 Hundreds of Vanderbilt and Nashville community members gathered in Langford Auditorium Wednesday evening for a lecture hosted by Equity, Diversity and Inclusion featuring best-selling author Angie Thomas. Her talk, "The Hate U Give: Finding Your Activism, and Turning the Political into the Personal" spanned several topics, including art as a medium for activism and the events and experiences that prompted Thomas to write her debut novel, The Hate U Give. The book has been on The New York Times bestseller list for 102 weeks and has been translated into more than 30 languages.
Thomas spoke about the journey to where she is today, which included learning the story of Emmet Till and his lynching while reading Jet magazine as a child; listening to and feeling empowered by Tupac Shakur's music growing up; and attending a predominantly white university, where the process of code-switching became the norm for her.
Reflecting on her own time in college, Thomas said, "I realized this was an entirely different world, so I did what is called 'code-switching.' I changed the way I spoke when I was there; I was careful of how I presented myself when I was there. I never wanted anyone to think I was the angry black girl, the ghetto black girl or the ignorant black girl. And I damn sure didn't want them thinking I was only there because of affirmative action.
"I had experiences that really challenged me as I was being this other person in this other world," Thomas said.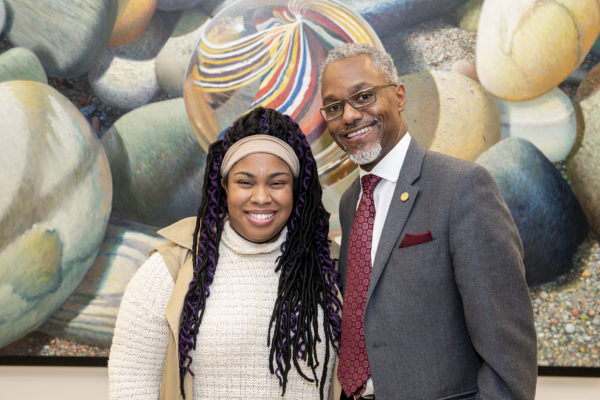 Thomas also spoke about what led to her writing The Hate U Give, which began as a short story. A professor encouraged her to expand it into a novel, but Thomas was reluctant at first. Thomas said she changed her mind after seeing media coverage of repeated cases of police brutality.
"I hoped that after Oscar Grant, maybe the message would be heard and things would change, but then Trayvon Martin lost his life, Michael Brown lost his life, Tamir Rice lost his life, and suddenly I'm hearing politicians explain why it's OK that a 12-year-old child playing with a toy is killed in the manner that he was," Thomas said. "I found myself angry, frustrated and hurt over and over again."
Throughout the talk, Thomas also spoke of the importance of connecting with people different than themselves, developing empathy for others, and discovering one's own form of activism to create change. Thomas said that for her, this comes through writing.
"I decided to use my art as my form of activism," she said. "As a writer, I personally believe that books are one of the best ways to create empathy and make people aware of the problems in our society."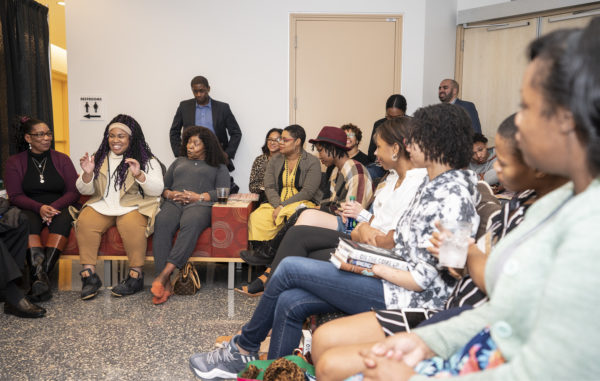 Equity, Diversity and Inclusion opened the lecture to members of the Nashville community, including Metro Nashville Public Schools. Students in the MLK Magnet Black Girl Group from Martin Luther King, Jr. Academic Magnet School were among those in attendance.
The group is facilitated by the "Intersectionality of Black Women and Girls in Society" program at Vanderbilt, supported by a 2018 Trans-Institutional Program grant. Senior Lecturer and Director of Undergraduate Studies for African American and Diaspora Studies Claudine Taaffe, who also works with the MLK Magnet Black Girl Group, spoke of the power of Thomas' work.
"Listening to her speak her story that I saw on the screen was amazing, because the girls that we work with had such an incredibly emotional reaction to watching the film," Taaffe said. "There are also a lot of black girls on Vanderbilt's campus who needed to hear this idea of being empowered to do something and not being concerned about what other people think."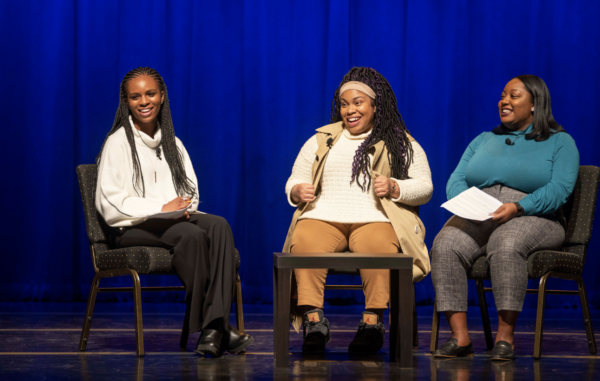 Following the lecture, Thomas sat for a Q&A moderated by Misha Inniss-Thompson, a doctoral student who helps facilitate the MLK Magnet Black Girl Group as a graduate assistant with the Intersectionality of Black Women and Girls in Society team, and Sydney Banks, an undergraduate student and Vanderbilt NAACP president. The author later held a book signing for those in attendance and met with a small group of Vanderbilt students.
Prior to the Feb. 13 lecture, Vice Chancellor for Equity, Diversity and Inclusion and Chief Diversity Officer James E. Page Jr. led a book discussion with Banks on The Hate U Give. The hour-long discussion focused on several of the themes within the book that Thomas also spoke about during her talk, including code-switching, experiences interacting with police, and navigating predominantly white spaces as a person of color.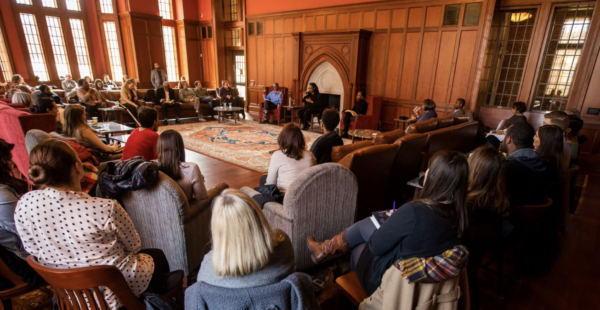 Thomas released her second novel last week, On the Come Up, which has also reached The New York Times bestseller list.