Media Inquiries
Latest Stories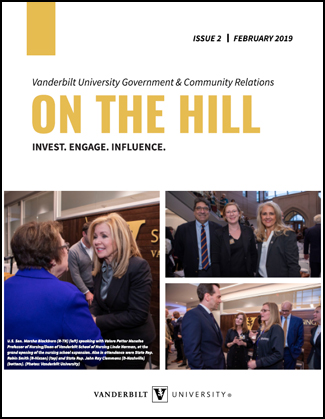 Vanderbilt's Division of Government & Community Relations has published Issue 2 of its "ON THE HILL" government relations report.
The biannual report summarizes Vanderbilt's year-to-date activities at the federal, state and local levels of government.
Read "ON THE HILL" Issue 2. >>
The goal of the report is to better inform the Vanderbilt community about the relationships and activities between the university and policymakers; to educate government officials about Vanderbilt initiatives; and to ensure the maintenance of good relationships among all parties at the local, state and federal levels.
The Division of Government & Community Relations, led by Vice Chancellor Nathan Green, serves as the institution-wide hub for public policy and community initiatives by developing unique relationships with and communicating to Vanderbilt's vast array of external and internal constituencies. In addition, Government & Community Relations serves as an advocate, facilitator and funder of community organizations that align with the Vanderbilt mission.
Contact: Collier Roberts
collier.roberts@vanderbilt.edu