Vanderbilt sophomore Jacob Beranek has loved both music and his Czech heritage since he was very young. These passions recently converged in an incredible opportunity for the Blair School of Music composition major.
The Wisconsin native was inspired to compose a piece of music in honor of the 100th anniversary of Czechoslovakia's independence.
"I love all things Czech, and I'm interested in their culture and music," said Beranek, who is an Anne Potter Wilson Honor Scholarship recipient. "I included folk songs I know and dance rhythms and old Czech chorales from the 14th century. I just immersed myself in that world." Beranek said he was inspired to create something in the Czech tradition, yet put a personal spin on it.
Having met the director of the national Band of the Castle Guards and Police of the Czech Republic (now referred to as Czechia) once before, Beranek decided to take a leap of faith and send him the composition.
"I mailed him the score and waited and twiddled my thumbs," he said. "Suddenly I got an email that said they were going to program it for the national concert in the capital. And I thought, there's no way—not in my wildest dreams could something like this happen."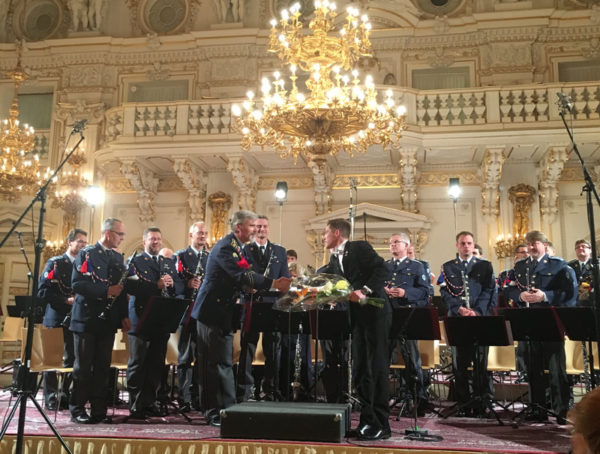 Dream come true

The centennial celebration coincided with Vanderbilt's fall break, so Beranek and his family traveled to Prague for the event held in Prague Castle's grand Spanish Hall. Dignitaries, including the U.S. ambassador to Czechia and the great-great-grandson of famous Czech composer Antonín Dvořák, were in attendance. Beranek was the only American represented on the program.
"Hearing my music played in that amazing hall was unreal. I still can't believe it," Beranek said. "Over there I was called 'Mr. Composer Beranek.' … It was a dream come true."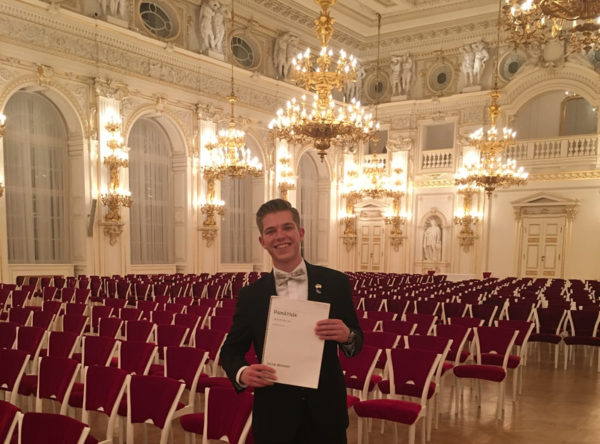 Strong support

Beranek composed the piece with support from his professors at Blair, especially Associate Professor of Composition Michael Alec Rose, who calls Beranek "one of the most promising student composers I've ever had the pleasure to teach."
"Jacob knows the humane ground upon which every piece of music stands, and he devotes all his attention and intelligence to investigating that radiant cosmos of interconnections as fully as possible," Rose said. "Though he has a long and arduous path ahead, he already has his artistic and spiritual priorities completely straight."
After the Czech performance, Beranek received a commission for the Wisconsin Philharmonic to perform his piece. "It's kind of fun to reimagine the piece with different instruments, because now I'm really getting to know my music," he said.
Early start

Beranek started piano lessons at age 7, and started composing music at 8 when his instructor required him to study theory and write music as part of his lessons.
He started composing seriously in high school, earning multiple accolades including being named the first-ever composer-in-residence of the Midsummer's Music Festival in Door County, Wisconsin, a three-year position that runs through 2020.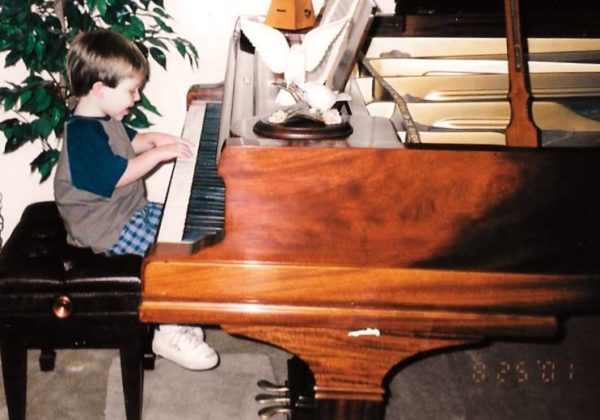 Beranek says he was drawn to Blair because it's one of the rare exclusively undergraduate
music schools within a top-15 university in the country. He wanted to enjoy a full undergraduate experience, something he couldn't get at a conservatory.
"I would not be the person I am and the musician I am today without the professors here at Vanderbilt," Beranek said. "It has totally changed how I see the world and especially how I see music."