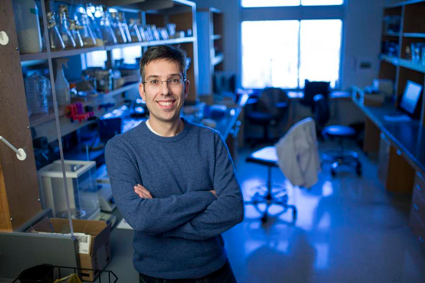 Antonis Rokas, who holds the Cornelius Vanderbilt Chair in Biological Sciences, has been elected a fellow of the American Academy of Microbiology. He was among the 109 new fellows welcomed by the academy in 2019.
Fellows of the American Academy of Microbiology, an honorific leadership group within the American Society for Microbiology, are elected annually through a highly selective, peer-review process based on their records of scientific achievement and original contributions that have advanced microbiology.
Rokas, professor of biological sciences in the College of Arts and Science and associate professor of biomedical informatics in the School of Medicine, is an evolutionary biologist who works on fungi and animals. The research that earned him election to the academy focuses on the study of the fungal DNA record to gain insight into the evolution of fungal primary and secondary metabolism and the reconstruction of the tree of life. Rokas was awarded a Guggenheim Fellowship in 2018 and was a 2017 finalist for the prestigious Blavatnik Awards for Young Scientists.
Learn more about The Rokas Lab.>>
The American Academy of Microbiology includes more than 2,400 fellows from around the globe representing all subspecialties of the microbial sciences and involved in basic and applied research, teaching, public health, industry and government service.