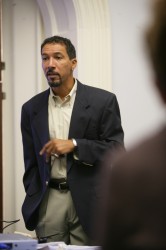 Muhammad Ali, one of the most recognizable figures of the 20th century, is the subject of the next Sports and Society Initiative program, "Muhammad Ali and the Olympics," on Tuesday, Feb. 12 from 11:30 a.m. to 1 p.m. in the McGugin Center's Football Meeting Room. Gilman Whiting, associate professor of African American and diaspora studies at Vanderbilt, and Johnny Smith, Julius C. "Bud" Shaw Professor in Sports, Society and Technology and assistant professor of history at Georgia Tech, will lead this discussion on the accomplished and beloved athlete.
Born Jan. 17, 1942, in Louisville, Kentucky, Ali grew up in a time of segregation and discrimination. Despite the challenges he faced as an African American, he advanced through the amateur ranks of the boxing world and won a gold medal at the 1960 Olympic Games in Rome. His career continued to thrive, beating several of the world's top boxers of the time and winning the world heavyweight championship in 1964.
In addition to boxing, Ali's legacy is one marked by activism and social justice, including his refusal to serve in the U.S. armed forces in 1967 due to his religious beliefs. Ali was also highly vocal in his resistance against oppression, bigotry and racism in the United States throughout the Civil Rights Movement.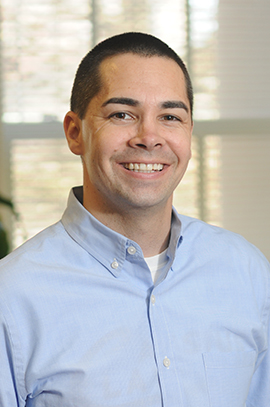 During the Feb. 12 discussion, Whiting and Smith will discuss the ways in which Ali championed the issues of his time and collectively impacted culture and society to this day.
One of Whiting's key areas of research is the sociology of race, sports and American culture. His work in this area includes having taught a class at Vanderbilt on the "Life and Times of Muhammad Ali" and authoring scholarly articles in numerous journals, including The International Journal of Sports and Society. Smith's research focuses on the history of sports and American culture. His work in this area has appeared in The Wall Street Journal and Washington Post, and in 2016, he published Blood Brothers: The Fatal Friendship Between Muhammad Ali and Malcolm X, which he co-wrote with Randy Roberts, distinguished professor of history at Purdue University.
The Feb. 12 event is free and open to the public and light refreshments will be served. Public parking is available in the 25th Avenue Garage at the corner of 25th Avenue South and Highland Avenue.
To find books and resources related to Muhammad Ali and the Olympics in advance of the program, visit the Sports and Society research guide. To learn more about this program and others in the series, visit the Sports and Society Initiative website.